JOE SATRIANI Black Swans and Wormhole Wizards
Epic (2010)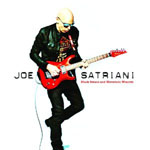 A new Satch album and a UK tour, where does he get the energy from? Given the euphoria in the past twelve months surrounding his new 'supergroup' project Chickenfoot, he could be forgiven for being less focused on his solo career.
Satriani raised the instrumental bar to extreme heights back in the late-1980s, so twenty years on can we expect anything new or shocking? Well, not exactly.
The addition of keyboard player Mike Keneally adds a jazzy hue to a couple of pieces and some welcome colour. Time and technology has smoothed and honed the Satch style and signature sound but when he lets rip as on 'Light Years Away' it's still pretty damn glorious. Production is by Mike Fraser (AC/DC, Metallica).
Satriani was originally a drummer and his fine sense of rhythm also makes for albums that stand out from his contemporaries .
Joe's contribution to Chickenfoot has been a real awakening, and those who have discovered him via that band (and where have you been for the past two decades?) should step right in: it's all very accessible.
We usually expect something quirky from Joe, but that seems to be saved for the album titles these days. This 11-track offering in the main plays it safe: no 'Crowd Chant' here.
There's a great opener 'Premonition' with a wonderful riff proceeded by some more intense meltdown, a few funky groove-based workouts (the wah-inflected Dream Song, Pyrrhic Victoria , the single 'Light Years Away' and 'Two Sides To Every Story'), an eastern-tinged 'The Golden Room' .
A funky and hypnotic Fender Rhodes riff introduces the title track 'Wormhole Wizards' and lays the ground for some fluid Satch soloing and is one of the highlights.
There's a tendency for guitarist albums to include a curveball and 'Littleworth Lane' might be considered just that; in complete contrast to the rest of the album and not distinctively Satch, this slow blues is perhaps a 'strange' choice.
Joe Satriani's albums may not tick the trailblazing checkbox like he did in the late eighties, early nineties but 'Black Swans and Wormhole Wizards' is never anything less than compulsive and is arguably a better, more concise, and ultimately more enduring listen than his last couple of efforts.
****½
Review by David Randall
---
| | |
| --- | --- |
| | Print this page in printer-friendly format |
| | Tell a friend about this page |