JOE BONAMASSA Black Rock Provogue PRD 7300 2 (2010)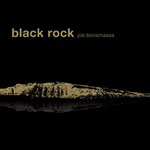 'Black Rock' is Joe Bonamassa's tenth album in a 20 year career that puts into perspective the amount of work that has gone into his recent 'Breakthrough Artist of the Year Ward'. And in many respects 'Black Rock' is both a reaffirmation of his rocking blues roots and his avowed intention with producer Kevin Shirley to break new ground artistically.
For while this is a rock-blues album with a world music undertow, like Paul Simon and Manfred Mann before him, Joe finds an equilibrium based on fitting new musical directions into an existing format. The result is some lush instrumentation, newly explored tones, deft arrangements and moments of real feel and inspiration.
Named after the studio on the black sand Greek island of Santorini, 'Black Rock' is the end result of the duo's musical creativity and innovation coming to bear on 8 covers and 5 originals. Better still, Joe's own songs include a couple of his very best efforts, which is no mean achievement given his last two studio albums were critically regarded as his best.
The opening cover of Bobby Parker's 'Steal Your Heart Away' sets the standard for some hard rock arrangements while he adds some fine upper register vocal phrasing on John Hiatt's 'I Know A Place'. The latter is another example of how both artist and producer set out to transform a rootsy original into a heavy riffed rocker.
'Black Rock' is also more than a random aggregation of songs as there's a coherent inner structure running through the album. From the blazing intro onwards, the album is an adventurous musical journey that sources some core blues and delivers a final denouement as rock blends with world music in a post Zeppelin framework before some lighter brush strokes on the acoustic end-piece.
Equally impressive is the fact that Joe's own material matches that of the chosen covers, particularly on scorching slide driven 'When the Fire Hits The Sea', one of a couple of songs that will surely gain him further radio play.
The following 'Quarryman's Lament' is easily one of Joe's best ever songs and flies on the back of an expansive melody line. The intuitive Grecian bouzouki and clarino accompaniment act as a perfect foil for his mellifluous guitar and fine vocals.
The cover of Truth's 'Spanish Boots' is a pile driving jammed out return to the rock template and will surely please Joe's rock fans. Leonard Cohen's 'Bird of A Wire' is given an effective Celtic treatment, again with simpatico Greek instruments. If anything this song is the biggest triumph of the lot. It's 40 years since Joe Cocker transformed this introspective Leonard Cohen song into something altogether earthier, while Kevin Shirley embellishes the song's essential slow burn with beautiful Greek embellishments before Joe adds a restrained guitar part of his own.
Otis Rush's 'Three Times A Fool' is a return to cutting edge blues and is notable for another change of guitar tone and mirrors Joe's excellent vocals on 'Look Over Yonders Wall'.
Another highlight is the performance Joe gets from the veteran BB King, whose singing for an octogenarian is simply startling while 'Lucille' speaks with real clarity of tone and expression. The double vocal lines and snappy horn arrangements make the track a mid-set anchor point.
And as if to reaffirm the album's core rock/blues credentials Joe's own 'Wandering Earth' combines crunching dirt sounding chords with some elongated vowels as part of some super confident vocal phrasing.
'Athens To Athens' has a lovely down-home feel that cleverly incorporated the roots of the blues with Greek instrumentation. It's a superbly conceptualised track and testament to Shirley and Bonamassa's overriding view of a bigger picture.
The same Grecian/Blues approach is applied to an altogether heavier arrangement of 'Blue and Evil', with echoes of both ZZ Top and Zeppelin. The combination of dark lyrics, a thunderous arrangement and Joe's flighty soloing with some exotic eastern sounding riffs make this another ground breaking piece.
The closing ragtime blues of Blind Boy Fuller's 'Baby You Gotta Change Your Mind' is the prefect antidote to what has gone before and is full of restraint, simplicity and an unlikely whistle line. If 'Black Rock' at the very least manages to drag some rock fans in the direction of the crossover over appeal of either the blues or world music then this album will indeed have broken new ground.
As it is 'Black Rock' again showcases Joe Bonamassa, as a restless talent in harness with his intuitive producer Kevin Shirley and between them they stand proudly at the very top of the Rock/Blues summit.
*****
Review by Pete Feenstra

---
Pete Feenstra talks to Joe Bonamassa, London 15.02.10
Camera: Prakash Acharya
---
| | |
| --- | --- |
| | Print this page in printer-friendly format |
| | Tell a friend about this page |