JJ GREY & MOFRO Georgia Warhorse (2010)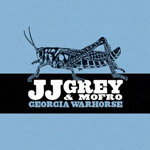 Georgia Warhorse - a reference to the virtually indestructible Southern lubber grasshopper - is the sixth album from JJ Grey, who delivers his own particular brand of Southern blues and Florida swamp rock.
Originally recording under the name of Mofro (note there's an 'r' there guys), and after a decade of hard touring JJ still spends eight months a year on the road winning over an ever increasing fan base with his blend rhythm & blues, rock and soul. And he's shared the stage with a pretty impressive cast list including BB King, The Allman Brothers, The Black Crowes, Jeff Beck, Los Lobos, Lenny Kravitz, Mavis Staples and Booker T.
An exponent of analogue recording, JJ has only ever recorded at the Retrophonics Studio, St Augustine, Florida - the home of some of the finest equipment from the golden ages of music production. And it fits JJ's output like a glove.
A man inspired by his classic soul heroes, JJ set about recording Georgia Warhorse with eleven new songs, including one co-written with Chuck Prophet and Angelo Petraglia from The Kings Of Leon. Playing the majority of instruments himself - guitars, harmonica and keys, JJ serves up an emotive set of soul laced southern blues.
It's easy to see why his work has appeared in film and on US TV series such as House, Flashpoint, Crash - it may be a 'classic' retro mix, but it's delivered with honesty, humility, and well, soul.
The opening track, Diyo Dayo harks back to the late sixties blues rock scene with JJ's vocals and some epic harmonica evoking memories of Ian Anderson and co circa 1968/1969. Elsewhere, Derek Trucks drops by to add slide guitar on Lullaby, reggae / soul icon Toots Hibbert adds vocals on The Sweetest Thing, and sweet soul horns are added to the mix
At the end of the day, Georgia Warhorse does exactly what it says on the can, without frills or pretension and confirming that this particular brand of rock is, like the lubber grasshopper, indestructible.
***
Review by Pete Whalley
---
| | |
| --- | --- |
| | Print this page in printer-friendly format |
| | Tell a friend about this page |