IRON MAIDEN The Final Frontier EMI (2010)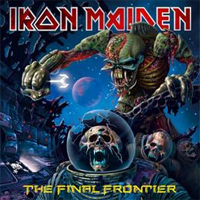 30 years on from their major label debut and we get Iron Maidenís 15th studio album. The current line-up of Dickinson, Murray, Smith, Gers, Harris and McBrain have been not only together but forging new roads for 11 years and adding a strong progressive edge to much acclaim. This has won the band so many new fans, young and old, standing tall next to the old guard, yes the band are top of their game and one of the most successful metal bands around at the moment.
While many were perhaps frightened that the albumís title may hint that it is their last, I think it is more likely referring to the boundaries that have been pushed. There is still a mix of metal new and old, a three guitar attack, galloping bass lines, the changes of keys and rhythms, but thereís a lot more too, and at just shy of 77 minutes, itís Maidenís longest album by far. Another boundary pushed.
For the album the band have reunited with producer Kevin Shirley and returned to the Compass Point Studios where many of the mid 80s albums were recorded. It is also an album where founder Steve Harris gets a co-writing credit for every track.
Opener 'Satellite 15 - The Final Frontier' kicks off in industrial style, in a good way (ie not obnoxiously so). Running at over 8 minutes, it has time midway through to switch to a more trad Maiden sound and the sound will please many.
'El Dorado', the lead single, has been criticised as weak. I donít think so, it is an excellent track and the guitars work well together, guitar chops mix with modern riffs and a strong vocal line too. There are clearly places too where Harris and McBrain have sat down and worked out a few rhythms too. The guitar solo isnít typical Maiden but it still stands out. OK, perhaps not the best choice as a single but it is still a good track.
There are elements of 'Mother Of Mercy' that remind me of early 90s Iron Maiden, not just vocally. Itís chunky in places and the vocals have a good range, and some 70s hints too.
'Coming Home' is just as strong, opening with an intricate rhythm before morphing into a very powerful metal ballad. The guitar interplay provides a riff that keeps you interested, and the mid song solo is gentle in a metallic way too.
'The Alchemist' is the only song under 5 minutes and is an uptempo classic Maiden number. This is guaranteed to get your head nodding, and would make a perfect sampler for the album and single too.
'Isle Of Avalon' (9 minutes) starts mid paced guitar and drums, with gentle (well as gentle as Dickinson gets) vocals coming up. You know itís a builder, and it does just that, with the guitars working up to a crash then itís a full paced song as full of melody as the other tracks. Guitars mix their own parts then come together before going their own way. Progressive Iron Maiden at their best.
'Starblind' is another complex number, the different rhythms and guitar lines mixing effortlessly with power.
'The Talisman' starts acoustically, some matching vocals, before the power comes in and takes you back to the Piece Of Mind or Powerslave era.
'The Man Who Would Be King' features more classic Maiden, with touches of prog and ballad, changes of pace and is a rare Murray co-credit. And if it sounds like a melting pot of everything, itís laid out well and delivered in portions that are cohesive and thoroughly enjoyable.
Closer, and album highlight, is the 11 minute 'When The Wild Wind Blows'. Kicking off with breeze and guitar vocals that typify chimes blowing in the wind, and building to a strong melodic heavy number. Here everything comes together, the whole song (just like the whole album) is a melodic and rhythmic journey, a team effort.
It is like the band have set out to stretch the listener as well as themselves, pushing the boundary but without alienating themselves by going beyond. There are elements to please almost every style, elements to please the young and the old, and where the talent stands out is the ease with which everything fits together.
Some parts of the jigsaw are more difficult than others, but it all fits together seamlessly.
You have to love Iron Maiden, they continually produce some damn fine music that, while it clearly has their moniker stamped all over it, never relies on formula or past glories.
****½
Review by Joe Geesin

---
| | |
| --- | --- |
| | Print this page in printer-friendly format |
| | Tell a friend about this page |