HIGH VOLTAGE
Victoria Park, London July 24-25 2010
Photo Gallery (July 24) by Noel Buckley
One of this year's much-awaited events and billed as "custom built by rock fans, for rock fans"
How was it for GRTR!?
Our reviewers Joe Geesin and Andy Nathan give their definitive verdict on Day 1...

Joe Geesin writes

Day 1 of this debut two-day festival and with lots of top names on both days, it was a much anticipated event. Also great to have something in London (Victoria Park, close to Mile End), that wasn't too hard to get to.

I arrived in plenty of time to bake in the sun before the near airport like security to get in, having found the advertised 10 minute walk from Mile End tube to be closer to 20.

My first impression was how big it was. Of the three stages, the Prog Stage and Metal Hammer (MH) Stage were fairly close to each other, the Classic Rock / Main Stage nearly a mile away, through a funfair.
I knew I would be rushing around lots, but made it in just in time to catch festival opener TOUCHSTONE on the Prog stage. They opened with a building doomy power metal sound and the prog sound came in, with some softer moments too. There were some gothic operatic moments too, with searing guitars giving way to folkier moments. The lovely Kim a great vocalist.

Think Karnataka with power metal and less Celtic influence. Many tracks from the latest album, which sees the new line-up gelling well. And before the great 'Strange Days' it was announced that the new temporary drummer was joining the band permanently.

Over on the MH (Metal Hammer) stage I caught a few tracks of NEW DEVICE, I guess you could call them typical MH fodder; indie / beefed up guitar rock/pop with touches of Maiden and extreme metal. Competent but not much more.

New Device were lively and enthusiastic though with scope for improvement in their songwriting (not to mention the singer's haircut!) while, though not my scene, I could understand the attraction of the Black Spiders' onslaught for fans of the early and doomy Sabbath. (Andy Nathan)

I briefly caught a track or two of PENDRAGON (Prog stage, think IQ / Pallas with plenty of crash bang wallop) and BLACK SPIDERS (MH stage; chunky mainstream metal, good in an ordinary way) whilst fitting in interviews with Hammerfall and Touchstone.

FOCUS (Prog Stage) had a long intro and a good sound, and emphasis on the older stuff. 'Sylvia' and 'Hocus Pocus' are classics and predictably there. Lots of blustery flute, and drum rolls filled the sound but lacked the finesse of the originals. Van Leer's work was good but his voice has gone.

Back to the MH stage for a few bars of ORANGE GOBLIN, touch of stoner metal heavily influenced by 70s trad metal, especially Black Sabbath and Grand Funk.

I missed BIGELF but was reliably informed of a singer / keyboardist central stage, a good guitarist, when rocking there is more than a nod to Deep Purple, but the slower material rather turgid.

HAMMERFALL are a solid power metal band with some heavy 80s trad metal influences. Solid, rhythmic and rifftastic.

By now I had met Saxon's Doug Scarratt in the audience (I'm on good terms with the whole band now), a quick chat, and a longer catch up with Rodney Matthews who had a stall in one of the tents, with an impressive array of records, posters of all sizes, books, badges and mugs, and autographs served aplenty.

Anyone familiar with the fantasy artwork of Magnum, Eloy (and selected albums by Nazareth, Scorpions, Asia, BJH, Praying Mantis etc) will know his work. I also had time to catch up with the Concert Live company, who record live sets officially and make them nicely packaged and available 10 minutes after the set finishes.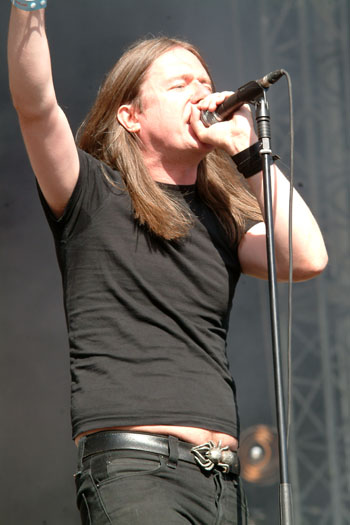 Due to an extended chat with Rodney Matthews I missed CATHEDRAL (MH stage), but am reliably informed (thanks Richard) that they played many a classic, and their doominess owes much to early 70s Black Sabbath. Apparently they were on form, good, and appreciated by the crowd, but unless you're a real fan most of the tracks (bar the stand out 'Ride' and 'Witchfinder General) can sound rather samey.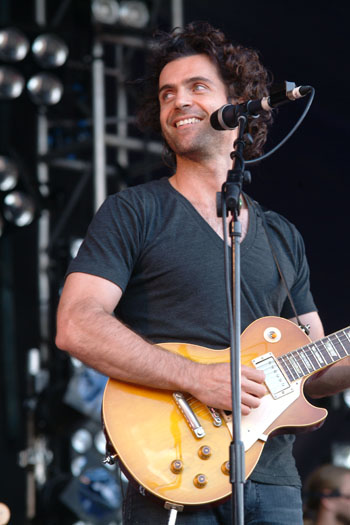 DWEEZIL ZAPPA (Prog stage) I caught a few seconds of, and from what I saw the even mix of shred and zaniness he would have done his father proud. I've heard some say he was the act of the day, but I wouldn't have quite gone that far.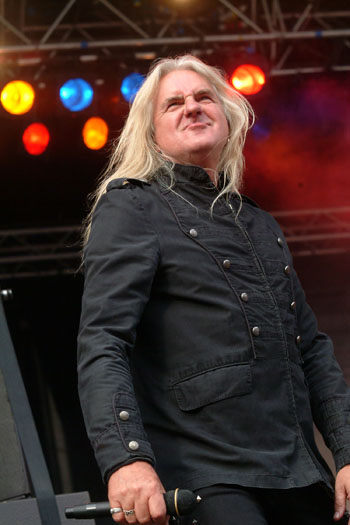 Back to the MH stage and SAXON, the only band I made the successful effort to catch the entire set of. 60 Minutes is not enough for these guys who were really on form.
Trad British Metal at its best. And for those of you who can't understand my constant raving about these guys, there are certain constants in life that NEVER change: the speed of light, the earth is round, the sky is blue, Saxon never put on a bad performance.
The current line-up has long been gelling firmer than school dinner tapioca, plenty of riffs and solos to put younger bands to shame, and Biff Byford is a great frontman. Plenty of getting the crowd going and humour too. New tracks sit seamlessly with old.

Saxon were probably the best and certainly most consistent band during the entire day, and the crowd appreciated it with aplomb. (Set-list)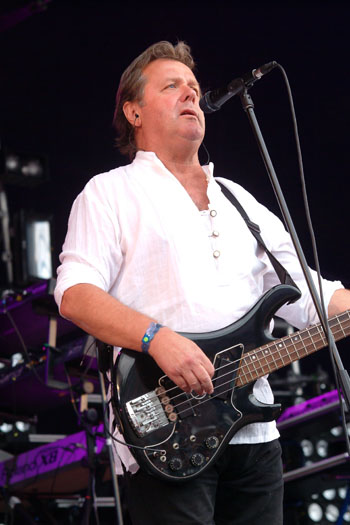 The reformed ASIA are on a bit of a roll at the moment, their new album getting some great reviews. Sadly they were on the Prog stage sandwiched between Saxon and Heaven & Hell, so I couldn't catch much.
'One Step Closer', 'Time Again', 'Cutting It Fine' and 'Without You' – all classics and corkers – and new song 'Extraordinary Life' just as good. 'I Believe' (from the new album) stood out, John Wetton's vocals excellent. It may have been my position, but he did appear to mumble between songs though.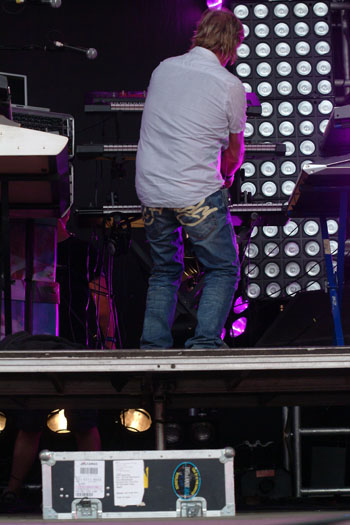 I was briefly able to catch the smaller stages closing acts. BLACK LABEL SOCIETY (MH stage) I've never been a fan of, and the 5 minutes I heard here confirmed my thoughts that they sound a mess and try to bludgeon you with it. Not good.

Then TRANSATLANTIC (Prog stage), a band who feature members of Spock's Beard, Flower Kings, Dream Theatre and Marillion. The band are so called because that's the length of some of their songs.
The 5 minutes I heard could have been one song or a tenth, but the sounds were good, the band were tight, sounded classic modern prog, polished and grandiose. With a percussionist augmenting the drummer, it's a full sound too.

Andy Nathan writes

Opening the Main Stage slightly early, I arrived soon after THE UNION got things going. Best known as the new project for Thunder guitarist and songwriter Luke Morley, they are more a vehicle for the talents of Peter Shoulder, whose powerful but soulful vocals called to mind Chris Cornell at times and who also took on a large proportion of the lead guitar duties.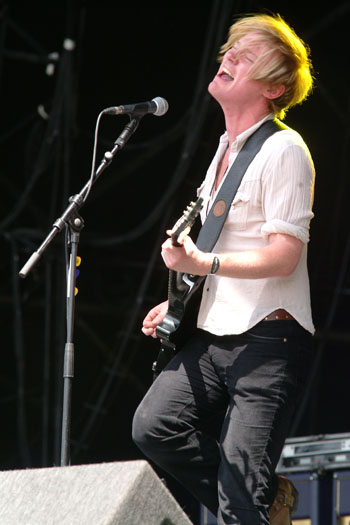 Other than a cover of Proud Mary, their stripped back, bluesy songs, often with substantial acoustic elements, were not obvious festival fodder, but seemed to have a depth to them to tempt me to explore further.
When the festival was announced it was obvious Classic Rock magazine favourites THE ANSWER would be part of it. I've always liked their retro flavoured bluesy hard rock, notably opener 'Come Follow Me' and the slide guitar-heavy jam 'Preachin'', but their set has become somewhat stagnant and I am beginning to doubt they will fulfil their early promise.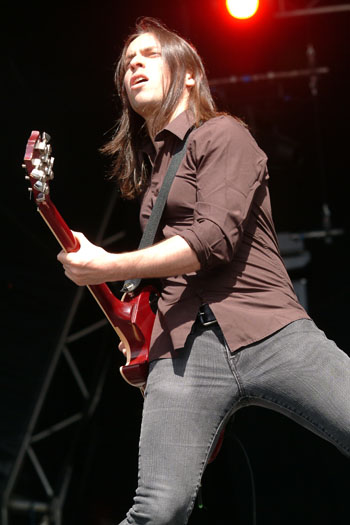 Moreover their stage act is over reliant on wild-haired, madly dancing and strongly brogued singer Cormac Neeson, who you probably love or hate. Nevertheless Too Far Gone was the first song of the day to get any sort of a singalong going, Rose Tattoo's 'Rock n Roll Outlaw' was a surprise cover, and 'Under the Sky' finished the set on a high.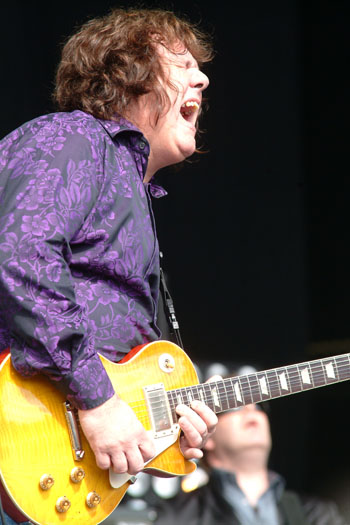 One of the major selling points of the festival for me was GARY MOORE returning to his rock roots, or more specifically his celtic-flavoured Wild Frontier era - and with the long retired Neil Carter in tow, whose contributions to both UFO and Gary's bands were so versatile and underrated (albeit in the days when he had a massive curly perm unlike today's chrome dome!)

However, live he rarely fails to disappoint me, and this afternoon was no exception. His guitar runs were as exceptional as ever, but he looked in poor physical shape, his singing was below par and he bore the grumpy expression of a bulldog chewing a wasp.
After 'Over the Hills and Far Away', then 'Thunder Riding', with Neil taking most of the singing, some momentum was lost with a pair of new songs, 'Days of Heroes', with a hint of Emerald, and 'Where are You Now' (a third newie, that I think was called Wild One, with a great Celtic guitar sound almost akin to an Irish jig, was the most impressive).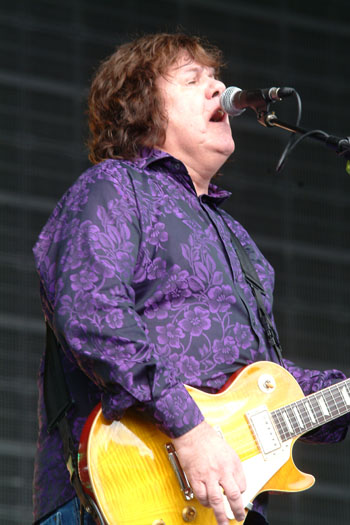 Meantime the impact of 'Empty Rooms' and the peerless 'Out in the Fields' was dulled by the way they were dragged out unnecessarily at the beginning and middle respectively.
I was also disappointed he ended with one of his blues songs in 'Walking by Myself', but I was obviously in a minority as the crowd lapped it up and a chant of 'We want Moore' cheered him up, but he was prevented from returning for an encore and he departed in animated 'conversation' with the stage crew.


Gary Moore seems to be rediscovering his 80s rock catalogue (much to my pleasure). He opened with 'Over The Hills and Far Away', with an extended intro. Lots of shred and grimacing.
A few new songs thrown in for good luck, he finished with 'Out In The Fields' and what is probably his best and most successful blues / rock crossover cover, 'Walking By Myself'.
In the best dirty, heavy and chunky form, this finished a good set in great fashion. Moore's voice may have lost its edge but his guitar playing certainly hasn't. It is clearly obvious from the way his plays that he really gets into, and delivers some damn fine riffs and solos. (Joe Geesin)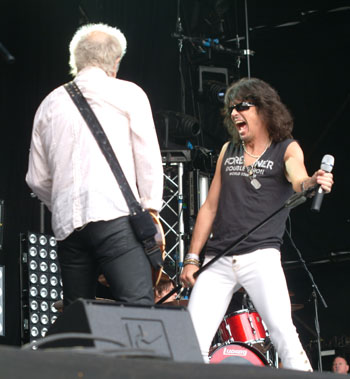 FOREIGNER in contrast are masters of the 'Greatest Hits' routine and proved perfect festival fodder, opening with their great one two punch of 'Double Vision' and 'Head Games' before 'Cold as Ice' got everyone singing along, even if the sound was too quiet for my ears.
Purists may bemoan Lou Gramm's absence but a younger band has undoubtedly provided more vigour, with singer Kelly Hansen having the lithe posturing of a younger and less debauched Jagger or Tyler.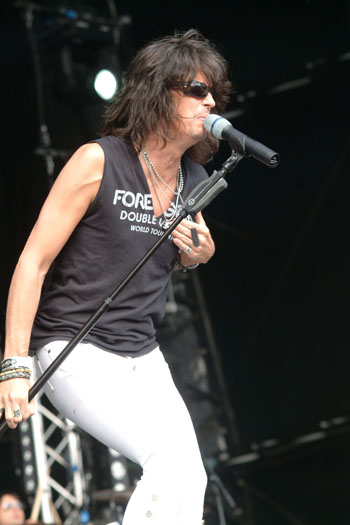 To their credit, they varied the set with the title track from the current 'Can't Slow Down' album and 'Starrider', Foreigner's token effort at prog, but from then on in it was big melodies and choruses all the way with 'Feels Like the First Time', 'Urgent' with Thom Gimbel rapturously received as he played the sax solo, and a lengthy 'Juke Box Hero' with 65 year old founder member Mick Jones riffing it up.
I hoped 'Hot Blooded' would be the encore, but again the way the crowd went for the No 1 ballad 'I Wanna Know What Love Is', with a children's choir coming on stage, albeit not miked up, showed I was in the minority.
I admit to being a huge Foreigner fan (indeed missing Asia and Saxon, both of whom I see every tour) but from people I spoke to, their set was the best received of the day and won many new or lapsed fans. Now we just need one of their songs to find its way onto a high profile advert, or become a Glee number. On second thoughts...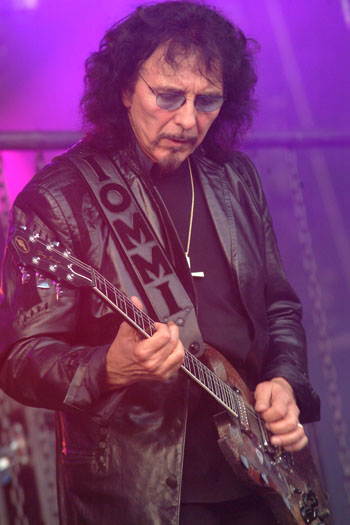 Looming over the festival was the shadow of the late great Ronnie James Dio. Originally slated to play with HEAVEN AND HELL, after his death his former Black Sabbath colleagues withdrew, but then reinstated the show as a tribute to one of rock's best loved figures, with Norwegian Jorn Lande and Glenn Hughes (ironically briefly a Black Sabbath member in his pre-recovery phase) sharing vocal duties two songs at a time.

Most of the early part of the set was devoted to Mob Rules material, beginning with the title track and continuing with the rarely heard Country Girl, the even rarer Turn Up the Night with one of Tony Iommi's most accessible riffs, and the darker, more slow burning Voodoo and Falling Off the Edge of the World.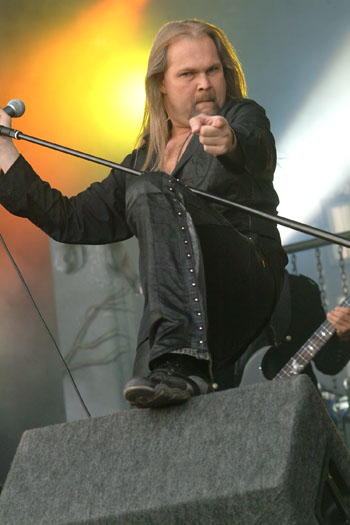 Yet the set was not just the obvious songs- I from 1992's 'Dehumanizer' has improved with the passage of time and the 'Bible Black' from last year's 'The Devil You Know' was dark and heavy as befitting an Iommi composition.

The legendary guitarist, together with Geezer Butler and Vinny Appice, were in trademark form pounding out a thick, powerful sound, but to be honest there was a huge hole in the middle of the stage and neither singer, with their voices seemingly too low in the mix, fully filled it for all their efforts.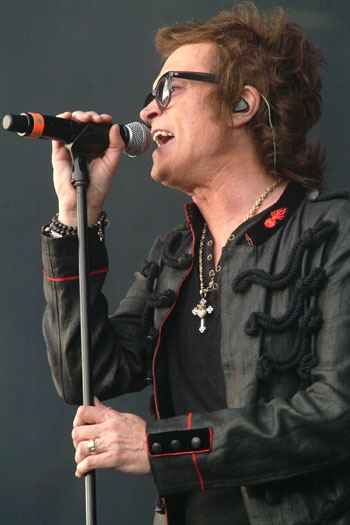 Moreover, Glenn Hughes, sporting thick glasses and an angular hairstyle, was too over the top for many and his West Midlands gone stateside accent and constant references to us being Rock n Roll Children grated on me after a while.

After a rattling 'Die Young', Ronnie's widow Wendy came to the stage to read a tearful but dignified thank you, making their great anthem 'Heaven and Hell' even more poignant.
There was time also for an encore of Neon Knights, with both singers joined spontaneously by Pantera's Phil Anselmo. It was a great experience but so sad to think those songs will no longer be delivered by the little man with his devil's horns gesture.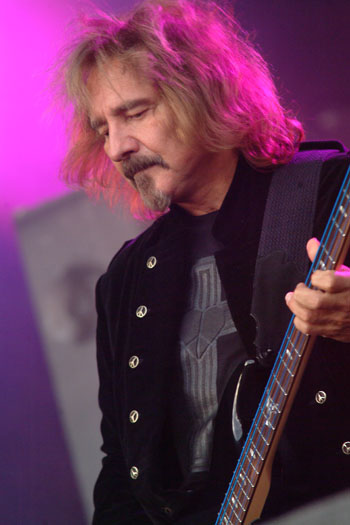 The vocals were good, but things took a while to gel, with Hughes doing his own thing and Lande almost making too much effort. Whilst both vocalists are excellent, neither could do RJD justice.

Sadly the band made a slow start, possibly unsure, but it took several songs before band and crowd seemed to gel. When they did gel, though, it was well worth it.

Overall very good, but still a tad disappointing. Lande's 'Dio' tribute album, I've been told, is a better bet.
(Joe Geesin)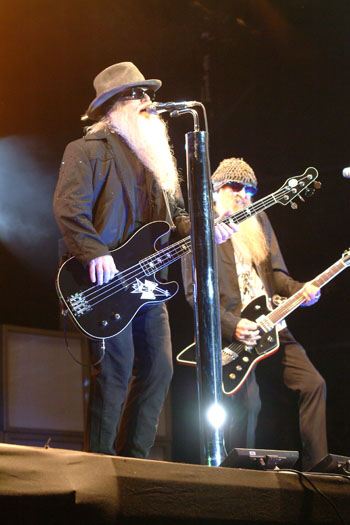 In the circumstances, it would also have a fitting headline show but ZZ TOP had already been booked for the bill. All the Texas boogie merchants' trademarks were in place - the fine opening salvo of 'Got Me Under Pressure' and the double of 'Waiting for the Bus' and 'Jesus Just Left Chicago', Billy Gibbons' understated but tasteful bluesy playing, video backdrops and their trademark humour- Billy being brought a 'blues hat' by some (ahem) glamorous roadies.

From a personal point of view, my enjoyment was dulled by having seen them do very similar sets twice in the last year at Download and Wembley. In addition, the set sagged with some blues covers, although rarities like 'Brown Sugar' and 'Party on the Patio', not to mention a fine cover of Hey Joe, were welcome variations to the set.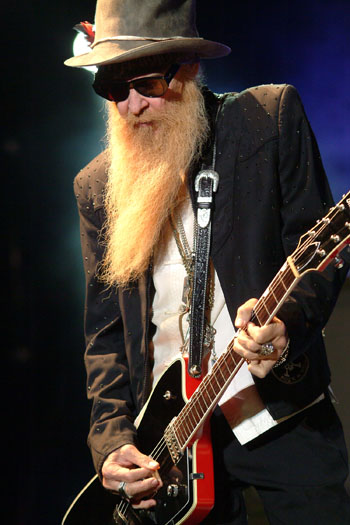 They were locked into a familiar laid back groove, but perhaps it was too laid back judging by applause that was polite rather than raucous. Nevertheless, after 'Just Got Paid' with some great slide guitar from Billy, it was the same crowd pleasing finale as any ZZ show for the last 25 years: the trio of Eliminator hits 'Gimme All Your Lovin'', 'Sharp Dressed Man', with the crowd singing along, and 'Legs' with Billy and Dusty Hill wielding fluffy guitars; then encores of a boogied out 'La Grange' and 'Tush', with Dusty taking the mike, sent a tired crowd off into the night- many of us to come back for another fix tomorrow.


I won't go into the rumoured politics, but I've never seen so many people leave midway through a headlining act's set. Including myself.
A good opener in 'Got Me Under Pressure', but it was downhill from there. A little bit of humour, and what good blues there was, was played seemingly half heartedly.
There is a limit to how long 2 guys in matching suits, glasses and hats can stand there waving their guitars in synchronisation and remain endearing. No doubting the band's expertise, no denying the classics and hits, the excellent music, but they did appear to be going through the motions.
Setlist and stage set too similar to previous concerts over a year ago, so I've been told. With 'I'm Bad I'm Nationwide' and 'Cheap Sunglasses' sounding rather too similar, it was time to leave. I've seen this band on DVD and loved it, but that was a year or two ago and the spirit has plateau-ed, the stage set and act not changing. (Joe Geesin)
---
Review by Joe Geesin and Andy Nathan (Additional reporting Richard Allen, Tim Jones)
Interviews by Joe Geesin
Photo Gallery (July 24) by Noel Buckley
All images © Noel Buckley/GRTR!. All rights reserved.
Saxon set-list
Heavy Metal Thunder/ Dogs Of War / Motorcycle Man/
Live To Rock/ 747 (Strangers In The Night)/ To Hell And Back Again/ Crusader/ Wheels Of Steel/ Denim And Leather (dedicated to Ronnie James Dio)/ 20,000 Feet