HEART Red Velvet Car Eagle EAGCD424 (2010)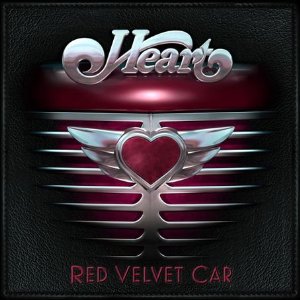 First, let's put this new studio album from Heart into context.
The Ann/Nancy Wilson line up of Heart first appeared in 1974 and in the ensuing 36 years the band have produced just 12 studio albums (discounting the Lovemongers' Christmas album). One every three years may not seem too bad, but you need to bear in mind that Red Velvet Car will be only the band's fourth album in the last 2 decades. So they are a rare event.
Of course, the Wilson sisters income stream has been supplemented by an almost equal number of live and greatest hits/best of collections, to say nothing of what seems like a constant stream of live dvds (of which 2002's Alive In Seattle is surely the pick of the bunch).
The last new Heart material we had was the patchy 2004 Jupiter's Darling release, although Ann Wilson's excellent 2007 Ben Mink produced solo album Hope & Glory was a far stronger addition to the band's canon of work. The other thing to bear in mind is that Ann is now 60, and Nancy 56, and you have to ask yourself, how many acts you can name of their generation who are still producing top notch contemporary material? I struggled to think of many who still manage to cut mustard, most simply relying mainly on the strength of their back catalogue.
So the expectations for Red Velvet Car should not be set too high. And in that context, I'm please to report that it's a huge triumph and almost certainly the band's best release since the big production Heart and Bad Animals albums in the mid eighties that yielded an almost constant stream of classic rock tracks.
Red Velvet Car doesn't reach those giddy heights, but it would be unfair to expect it to. Ben Mink (KD Lang, Rush, Bare Naked Ladies) is retained on production from Ann's solo album and he and Ann play all the guitar, mandolin, dobro, banjo, fiddle, viola, cello and autoharp parts. It isn't clear who else participates from the advance press release.
And I guess that's where the difference lies -the album sounds like it has been carefully stitched together, layer on layer. As a result it lacks some of the immediacy and vibrancy that a band sparking off each other in the studio can generate. But that's minor nitpicking and it's easy to see why the sisters would choose to avoid burning the midnight oil in favour of a more leisurely and 'civilised' creative process.
Red Velvet Car is nevertheless an excellent rock album, bearing all the expected Heart hallmarks such big melodic rock numbers, Zeppinesque folk elements (Safronia's Mark) and, of course some great vocal performances from Ann. Highlights? The opener There You Go which harks back to the band's formative years, the choppy rock riffery of WTF, the excellent bluesy title track, Hey You (which has an almost Dixie Chicks feel with Nancy taking lead vocals), the driving Wheels, and the other standout - Death Valley which, with the track Red Velvet Car, is destined to become another Heart 'classic'.
It didn't say so on the promo copy, but my best advice would be buy Red Velvet Car with confidence and 'play it loud'.
****½
Review by Pete Whalley

---
| | |
| --- | --- |
| | Print this page in printer-friendly format |
| | Tell a friend about this page |