THE GROUNDHOGS Thank Christ For The Groundhogs EMI (2010)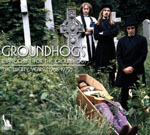 Forged in the white heat of the late sixties British blues boom, Tony McPhee's Groundhogs hitched the Delta to a fusion of punk, metal and progressive rock.
EMI's bargain 3-CD box set narrates that transition in a packaging of the band's first five releases for Liberty and United Artists, and stepping stones all to a career unstalled to the present day.
Spurs won sessioning for touring US performers such as Champion Jack Dupree (citing the pasty power trio the best he had worked with), McPhee was soon splicing the traditional blues of 1968's debut Scratchin' the Surface with a more contemporary styling on the following year's ironically-titled Blues Obituary.
While the roots show in tracks like 'Times', the masterful 'Mistreated' and 'BDD' (a highlight of Liberty's 'Son Of Gutbucket' sampler of the day) are tipping points into the challenging waters of prog. The raw urgency in their playing templated a sound that the band would round in 1970's World War II concept piece Thank Christ For The Bomb with standouts in 'Soldier' and 'Strange Town', and then harden to iron the following year on the mind-bending 'bad trip' of finest hour Split. Each track here fires off with explosive opening chords, notably on the first two of the monster title 'suite' and Hogs' future calling card in the furious sawn-off shotgun that is 'Cherry Red'. With its gritty monochrome cover collage of a fragmenting McPhee, the pace only diminished by the industrial dischord of 'Junkman', this iconic record still ignites.
McPhee and cohorts dodged the 'follow that' in 1972 by returning to the conceptual in a more restrained and progressive effort exploring matters apocalyptic in Who Will Save The World? The Mighty Groundhogs. The presence of harmonium and - inevitably - mellotron give the game away: opener Earth Is Not Room Enough revealing a thoughtful sensitivity and a perfunctory cover of 'Amazing Grace' reverentially subdued, but by the closing sprawl of 'The Grey Maze', the boys are boiling over again.
The booklet gives little away, but there's plenty online to backdrop this music, which whether at full pelt or crawl, is menacingly masterful.
****
Review by Peter Muir

Peter Muir presents "Progressive Rock Fusion" on Get Ready to ROCK! Radio, Sunday 19:00, Monday 19:00
---
| | |
| --- | --- |
| | Print this page in printer-friendly format |
| | Tell a friend about this page |