THE GASLIGHT ANTHEM American Slang (2010)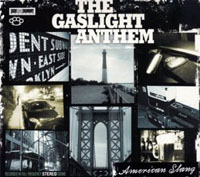 Earlier this month,The Gaslight Anthem released their third studio Album 'American Slang'. The album was produced by producer Ted Hutt (The Bouncing Souls, Street Dogs) who produced the last GLA studio album, 59. However although they were using the same producer, Brian Fallon (vocalist and guitar) went in looking for a different outcome - "I was thinking this time, the last record was easy because, you know, kind of write a song that sounds like this guy and that, and have this influence, lead this song - on this one we were trying to figure out what we sound like".
With an album rated 5/5, Fallon realises it's a far way from when they first started out in New Jersey. 'American Slang' is no longer set in the more innocent times written about in the second studio album, '59', Fallon looks to show a more pessimistic side with lyrics such as 'Don't sing me your songs about the good times.' But within the album there is the presence of growth. The band they prepared to be is now fully fledged and ready to run.
Most recent single and opening track 'American Slang' is a classic Gaslight Anthem, well anthem. The rhythm is carried by the raw and unique vocals of Fallon and simmering percussion of Benny Horowitz, being fully thrown off the tracks by one hell of a guitar hook . "Look what you started/ I seem to be coming out of my skin" pens Fallon, a statement representing , not necessarily a new Gaslight Anthem, but a more fresh and in your face GLA that is continuing to grow.
With a slot on this year's Reading and Leeds Festival, The Gaslight Anthem have written the perfect album to accompany their performance to thousands of energetic youths.
The following tracks, such as 'Boxer' keep the golden streak running from opener 'American Slang'. The opening of 'Boxer' bears a resemblance to Rancid's acoustic album, Let The Dominoes Fall, with the same lyrical style and acoustics, which in no time are transformed into sharp guitars, thickened by bass rhythms to give a full feel to the backings.
Previous album '59' has a more country sound, especially on tracks such as 'Here's Looking At You Kid', whilst 'American Slang' sees the Gaslight Anthem rooting themselves more in rock 'n' roll, showing that The Gaslight Anthem may have possibly found what they were looking for: their own sound.
*****
Review by Georgia Rawson

---
| | |
| --- | --- |
| | Print this page in printer-friendly format |
| | Tell a friend about this page |