FURY UK A Way Of Life Rocksector (2010)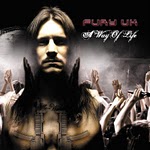 This is Fury UK's third album and their best yet. The band have been touring regularly on the back of their previous album and that gigging shows in the tight performances here.
2009's 'VR' achieved four stars not least because it was a quantum leap in terms of quality in both production and songwriting. 'A Way Of Life' continues that very high standard and in terms of songs, more concise.
'I See Red' is riff-based and sets the scene well although perhaps a little too close to classic Maiden - the main riff certainly - whilst 'Fall From Grace' is Megadeth but lacking Mustaine's sneer.
'One God' continues the unadulterated riff-fest and 'Saviour' brings back the eighties Maiden flavour with a good heads-down breakdown section which will be lapped up by the faithful. They'll probably be so engrossed they'll miss the somewhat repetitive end chant.
'Nemesis' is highlighted by a very catchy chorus and time changes which keep things interesting.
If there is one criticism, it is difficult to detect a uniqueness to the band proposition. In the brothers Appleton the trio have two attractive front-men and in Chris, an excellent guitarist. But the music is highly derivative, a throw-back to 90s thrash and earlier heavy metal .
And there is still little light and shade with most of the 10 tracks taken at break- neck speed (for example, 'Show Of Force' which has shades of Motorhead). 'Athena' starts like something off a seventies Steve Hackett album, but soon breaks into an 'anthemic' riff-fest.
The band allow themselves the 10-minute 'The Remainder', a good enough showcase for their collective musicianship and grown confidence.
As I wrote in my previous review, it would be interesting to hear some additional instrumentation, perhaps another guitarist and maybe a keyboard player to provide a bit more colour. This might then lift it above being the stuff of biker festivals, and poor club PA systems, and into the premier league - which is what they deserve.
****½
Review by David Randall

---
| | |
| --- | --- |
| | Print this page in printer-friendly format |
| | Tell a friend about this page |