FM Metropolis Riff City Records (2010)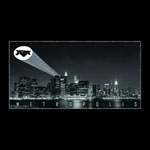 FM reformed back in 2007 and made a big impact at that year's Firefest. Since then they have been taking their time to produce this new album which features original trio - vocalist Steve Overland, bassist Merv Goldsworthy and drummer Pete Jupp - joined by Jem Davis (Tobruk, UFO and Sack Trick) on keys and guitarist Jim Kirkpatrick. As with any band you loved back in the day you always approach a new album with caution as it can often be a pale imitation of past glories but have no fear this album could quite possibly be the band's best yet.
The opening trio of songs, namely 'Wildside', 'Hollow' (the vocal/keys interplay on here is superb) and 'Unbreakable' are simply immense. They have big choruses, plenty of melody and of course Steve Overland's voice which sounds as good as ever. 'Unbreakable' is the nearest to their 80's output, albeit with a very modern sound/production.
'Flamingo Road' crashes in on a heavy guitar riff, almost AC/DC in sound and adds some steel to the album's sound overall. Bit like FM jamming with Deep Purple. 'Over You' is a tasty pop rocker although the piano riff reminds me of Foreigner's 'Cold As Ice'! Those 'nah nah' vocals are used to great effect on 'Days Gone By', a reflective look at the past. Bryan Adams take note, instead of the AOR poop you have done of late try 'I Ain't The One' which features an Adams approved riff.
Ballads are still a major part of the FM armoury and 'The Extra Mile' is up there with their best work. The mini-epics 'Still The Fight Goes On' and 'Who'll Stop The Rain' both build from a quite start to a crescendo of guitar and impassioned vocals. New boy Jim Kirkpatrick has fitted into the band seemlessly and takes the band away from the Andy Barnett blues rock years of the band which I was never a fan of.
This will make so many year end 'best of' lists and rightly so. The band took their time in recording this album and it has paid off. They have taken the best of their past and added in some new twists to keep it fresh. Great to have the band back and get your copy pronto.
*****
Review by Jason Ritchie

---
| | |
| --- | --- |
| | Print this page in printer-friendly format |
| | Tell a friend about this page |