ELEANOR McEVOY - I'd Rather Go Blonde MOSCO (2010)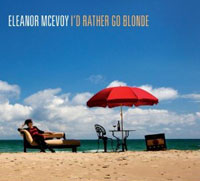 Eight albums in, and Eleanor McEvoy has yet to put a foot wrong. 2008's Love Must Be Tough was a curve ball - a shift from a one woman, one vision, to a curious retro blend of covers, trumpets, trombones and saxes. But it worked. And in the intervening period her brief 2 track collaboration with the Polish acapella group Banana Boat, and the Oh Uganda! single were nothing short of outstanding.
But I'd Rather Go Blonde signifies a departure, of sorts. For a start the album cover is more 'arty' than any that has gone before with echoes of the chaise longue and beach of 10cc's 1980 Look Hear? Thankfully, we're spared the Hipgnosis sheep. Perhaps Eleanor's touring of the land 'down under' may have been the inspiration. It certainly wasn't the Irish Sea.
Whatever, running out at 11 tracks over a mere 36 minutes I'd Rather Go Blonde is her shortest offering to date by some margin even allowing for the fact that all her independent albums (from 2001's Yola onwards) have been made available on audiophile friendly vinyl.
So, as they say, every second counts. However, some things haven't changed. Firstly, there's a collaboration with Dave Rotheray (Just For The Tourists) who's been around on the fringes of Eleanor's creative output since she toured with Homespun in 2005. And secondly there's a cover. On this occasion a slowed down 'late night' version of Sam Cooke's Good Times.
I'd Rather Go Blonde is the perhaps her most keyboard dominated album yet. For the most part, gone is the stripped back acoustic sound of recent albums and in its place a spangly, shimmering, multi layered sound at times echoing almost as far as Brian Wilson (the excellent, Just For The Tourists) and Phil Spector (I'd Rather Go Blonde).
Peter Beckett is retained from Love Must Be Tough on piano and keyboards with Eleanor playing guitars, violins, violas, piano, Hammond organ and keyboards. Gavin Fox and Ross Turner come in on bass and drums / percussion, and while the production team of Mick O'Gorman, Eleanor and Peter Becket remain in place, Ruadhri Cushnan (Mumford and Sons' Sigh No More) is brought in to do the album mix.
Of course, it wouldn't be an Eleanor McEvoy album without her wonderfully rich vocals and in that department, I'd Rather Go Blonde doesn't disappoint with the jaunty first single Look Like Me, the haunting Away From You, the wistful Take You Home, and bluesy The Thought Of You being particular highlights.
The subject matter, as always, remains firmly fixed on matters of the heart, but this time around it feels delivered from a more observational perspective by a woman who sounds comfortable with her place in the world.
One thing you could never accuse Eleanor McEvoy of is resting on her laurels, and once again she's come up with the unexpected.
****
Review by Pete Whalley

Eleanor McEvoy features regularly in our Singer Songwriter sequence Get Ready to ROCK! Radio, Mon-Fri 14:00-16:00 GMT More information
---
| | |
| --- | --- |
| | Print this page in printer-friendly format |
| | Tell a friend about this page |