DIO At Donington Live 1983 & 1987
Niji Entertainment (2010)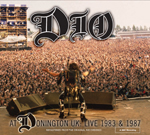 Retrospective release of the year, before we've even started, and fully justified too.
These two BBC live recordings catch Dio the band in their prime (including their first ever UK performance) and are long overdue, yet are timely too with the sad passing of Ronnie James Dio after his battle with cancer.
Opening this superb package, you get a booklet and 2 replica laminated passes inside the digipak, and disc one opens with 'Stand Up And Shout', so we're off to a great start.
1983 and Dio were promoting their debut album Holy Diver, and that aforementioned opener and 'Straight Through The Heart' set out the band's intentions perfectly, and go down well. Jimmy Bain and Vinnie Appice are solid and tight, and keyboard player Claude Schnell fills the sound well, if at times he's a little low in the mix. Only 2 songs in and we're getting some neat solos from guitarist Vivian Campbell.
Sabbath's 'Children Of The Sea' is a hit, and judging by the cheer for 'Rainbow In The Dark' and 'Holy Diver' there are large portions of the crowd already very familiar with Dio's debut album.
'Stargazer' and 'Starstruck' are given a few bars each, and no Dio set would be complete without 'Heaven And Hell' and 'Man On The Silver Mountain'.
Disc 2 and now with Craig Goldy on guitar, the band have a fuller catalogue of their own to play on, and the band were higher up the bill too. The band open with 'Dream Evil' and 'Neon Nights', the latter a superb uptempo rendition, and the hit 'Rock'n'Roll Children' sounds good too.
'Long Live Rock'n'Roll' sees the band sound like they're on speed, and 'Last In Line' is Dio at his most passionate and powerful.
Thirteen tracks, a good mix of Dio, and Sabbath with a touch of Rainbow, and 'All The Fools Sailed Away' and closer 'Rainbow In The Dark' reminding you just how good Dio's catalogue is.
Excellent sound throughout, with the second disc being slightly better.
Long overdue, classic and essential rock, and a fitting tribute to Ronnie James Dio.
*****
Review by Joe Geesin
---
| | |
| --- | --- |
| | Print this page in printer-friendly format |
| | Tell a friend about this page |