DEEP PURPLE Come Taste The Band (35th Anniversary Edition) EMI (2010)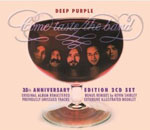 Deep Purple re-masters / anniversary editions are a bit like buses - none come around for ages, and then there's a rush. After a five year gap since the excellent re-mastered 30th Anniversary edition of Burn, last year we got the Stormbringer 35th Anniversary Edition, and now, at long last, Come Taste The Band.
It was to be Purple's last studio album until the Mark II line-up reformed in 1984 for the stonking Perfect Strangers, so it could be a while before have another release to look forward to. Although it's scary to think that album will qualify for a 30th anniversary edition in only four years time.
Anyway, back to the album in question. After Blackmore quit, most people expected Purple to fold like a pack of cards. But when Jon Lord persuaded ex James Gang guitarist Tommy Bolin to join, his arrival gave the Mark IV line up a shot in the arm. Unfortunately, it was to be a short lived marriage with Bolin's succumbing to a drug overdose only a year after the album was released.
But it's a worthy legacy, in style continuing Stormbringer's dalliance with the funk and soul that Glenn Hughes had brought to the band, but with Bolin's jazz influenced playing giving the overall sound a harder more commercial rock feel in the style of Burn.
Those who are going to consider buying are already going to be familiar with the Purple legacy. And every one of us has our own favourites. For me, in no particular order, it's Machine Head, Made in Japan - surely the best live album ever - and Burn. But it's subjective and others would no doubt argue the case for In Rock and Stormbringer.
So the questions that need answering are 'what's the re-mastered sound like?' and 'are the extras worth having?'
In the case of the former, 35 years on Come Taste The Band sounds in rude health with Bolin's fluid guitar lines spurring the rest of the band to rescale the heights. The big surprise though, is the 2010 Kevin Shirley remixes.
While previous Roger Glover remixes have added little to the original versions, Shirley has pulled one massive rabbit out of the hat. It's as if Come Taste The Band has been on steroids for the last 35 years - the sound is magnificent and for once it's almost arguable that it outguns the original. That's no mean feat.
An essential purchase for any self respecting Purple fan.
*****
Review by Pete Whalley

---
| | |
| --- | --- |
| | Print this page in printer-friendly format |
| | Tell a friend about this page |