DAVID CROSS and ANDREW KEELING English Sun: Electric Chamber Music Vol. 2 Noisy Records Noisy 6 (2010)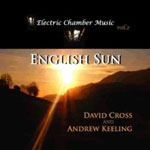 'English Sun' finds a rewarding combination of former King Crimson electric violinist David Cross and contemporary classical composer Andrew Keeling who successfully pool their respective talents to create some touching mood music that straddles the Ambient/ Progressive divide and is referred to as Electrical Chamber Music.
And while much is made of the improvisation here, it's the occasional rich melodic moments and haunting tones that will surely attract crossover listeners. For make no mistake this is not a work for the majority of Prog Rock Crimson fans. For very thunderous Crimson chord and angular guitar line, Cross and Keeling prefer to unravel the tentative and work their way towards those inspired moments when a tone, a groove, the presiding flow or a melody lifts a piece of music out of the ordinary. And happily there are several such moments in a stylistically wide ranging nine tracks.
In truth 'English Sun' is more a series of sketches rather than a weighty work but is all the more enjoyable for that.
Thus while Andrew sets out his stall with some flightily flute on 'Half Light' and David underpins much of the work with some earthy brooding lines, it's the interaction of the two that leads to the best moments. It's an instrumental partnership in which they both swap predominant and supporting roles, before occasionally merging beautifully. The core dynamic of the album lies in the juxtaposition of David Cross's slowly emerging linear lines and deftly plucked strings with Keeley's darting meandering flute playing.
Sometimes they content themselves with rich tonal explorations but then they also uncover the occasional memorable melody line as exemplified on one of the best tracks 'Dido'. There's also plenty of room for real moments of 'improv' and further tonal exploration as on 'High Scree' and the closing 'Soldier Poet'.
Some well chosen additional piano and an imposing violin helps tease out the melody line of 'Lamentoso' and carries the kind of thematic quality that could have been lifted from a film soundtrack. 'Clear Sky' in comparison derives a lot of presence from a minimalist arrangement (or perhaps further improvisation). The song embodies a meditative quality that makes much of crystal clear tones, pregnant silences, judicious reverb, sound loops and an all round feeling of space. A mix of plucked strings and more unfurled violin lines evoke a gentle evolving landscape
The two players further shadow each other on the closing undulating melody of 'Soldiers Poet' which is full of eastern flavourings. It's a lengthy and enjoyable end to an admirable project which dedicated fans will doubtless lap up and the passing Crimson fan might have to work at just a little harder to enjoy.
****
Review by Pete Feenstra
---
| | |
| --- | --- |
| | Print this page in printer-friendly format |
| | Tell a friend about this page |