DAN REED Coming Up For Air Zero One ZOECD1 (2010)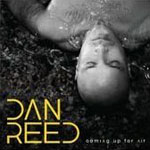 Dan Reed could have so easily been remembered as a late eighties phenomenon, described forever as a footnote to period excess, big label budgeting and hair, although he lost it later.
Back in the UK looking cool and reinvigorated he embarked on a quiet acoustic tour in April 2009 - a revelation to all who saw him - and then played the prestigious Union Chapel gig in London in March 2010.
Part of this revelation was the stripping down of some of his classic Dan Reed Network output, great songs given a new twist and lease of life. When Dan returned in May for a tour 'with band' it was still more akin to an MTV Unplugged session than anything seen in rock stadia c1990. A revelation, a shock perhaps, but none the worse for that.
The release of 'Coming Up For Air' has been on stop-start for a year and has finally emerged to confirm Dan's relevance with new material. There is an easy authority permeating this album, and if not as thrusty and attention-grabbing as his earlier fare, does reflect that we have all grown up a bit. Many of the tracks were first written when Dan was on sabbatical in Jerusalem and living in a monastery - a time of self-discovery and political awareness that has tinged these pieces.
Although influenced by wordly and heavier matters ('Coming Up For Air', 'Brave New World', 'Promised Land', 'The Dictator'), Dan's core songbook is infused with the romantic. Those who found that his classic Network output provided a soundtrack to shag will not be disappointed here.
Songs like 'Losing My Fear', 'Closer', 'On Your Side' and 'Feels Like Home' were made for cosy candlelit dinners and - it has to be said - the rug afterwards. And, yes, there is a track called 'Candlelight'!
Highlights? It's all good but 'Middle of Nowhere' (mixed by Mike Fraser) has hit potential if there is any justice left in the digital age whilst 'Pray For Rain' is enhanced by Reem Talhamni's vocals and Srour Saleeba's violin.
This is an album of timeless, classic pop. Welcome back Dan Reed.
*****
Review by David Randall

---
| | |
| --- | --- |
| | Print this page in printer-friendly format |
| | Tell a friend about this page |