BLACK COUNTRY COMMUNION Black Country Communion Mascot Records (2010)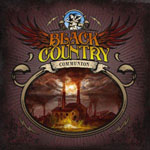 Supergroups haven't had a great history of success, so it's with some trepidation that I waft this offering by Messrs Hughes, Bonamassa, Sherinian and Bonham into my drive, not having been totally bowled over by the single, 'One Last Soul.'
Whoa! At the outset we are treated with some incredible bass playing from Glenn Hughes which takes me by surprise. I am patently aware of this less celebrated part of the Hughes repertoire, but nonetheless the execution is breathtaking with Joe Bonamassa following suit. The title is 'Black Country.' The hearts are in it. The standards are set.
'One Last Soul' follows at a more sedentary pace. It just struck me as an album track and not a representation of what was to come. In context it sits comfortably though and is definitely a grower.
'The Great Divide' begins with some whirling guitar by Joe Bonamassa, but the emphasis on team work. From Jason Bonham's skilful platform through to Derek Sherinian's shrill Hammond delivery, the song is crafted beautifully. The Hughes vocals are on overdrive yet interspersed with some refreshing lower gears.
'Down Again' is blues with a surprising harmonic chorus which is an echo of Joe Bonamassa's work on the 'Ballad of John Henry' where he reverts to classical refrains to emphasise the tasty bits. Derek Sherinian comes into his own here with a dreamy sequence towards the end which complements Bonamassa's work. Kevin Shirley's production is spot on.
'Beggarman' is a riff. I am immediately brought back to Led Zep I which is not a bad place for me to be. This is one that will go down live if the tour comes off. On the face of it, this rocks along at a steady pace, but the octave shifts by Hughes are smooth and sets BCC apart from the 'also rans' in pubs and clubs across the world.
'Songs of Yesterday' has all the promise of an epic, with its intricate picking from Bonamassa, once again dovetailed by some beautiful lines from Sherinian. The riff adds drama and the soloing showcases Joe Bonamassa as a classic rock guitarist and not simply the blues maestro that he is often labelled. This is a piece of work, you will want to pull your car over, raise the head rest, wind the seat back and watch the sunset. It's that good!
We are back to riffing in 'No Time' and I am immediately drawn to Purple Marks 3 and 4. But wait! Bonamassa and Sherinian combine with another operatic arrangement half way through. Hughes takes the offer of that generous forum with aplomb and so we move to yet another sonic dimension than was first suggested by the intro.
Will Trapeze's 'Medusa' written on Mr and Mrs Hughes's kitchen table in the late 60's have dated? With the solid rhythm that both Bonham and Hughes provide, the answer is no. And Bonamassa pays homage to the late Mel Galley's original guitar work. This belated epic will attract new fans on its own.
'Revolution in Me' is a good old fashioned stomper and an entertaining contrast from the rest. 'Stand (At the Burning Tree)' shows that the whole is greater than the sum of the parts. It begins with some familiar jazzy musings from Hughes and Bonamassa, but we journey into further recesses of the Aladdin's Cave to reveal more treasures than expected.
What a surprise 'Sista Jane' turns out to be too. Hughes understands what the lower notes do. It's my bug bear watching TV talent shows. These kids can wail in tune, but what about that lower end to build the tension? 40 years in the business brings wisdom and quality to the roundtable. And just when we thought it was safe to label the song 'melodic rock' due to its catchy chorus, Jason Bonham plies us with some proggy lid tapping.
I could have been quite happy ending there and would have felt my $10 was well spent, but there's another 11 minutes in the shape of 'Too Late for the Sun.' It does have the feel of a jam and I wonder if it could have been halved in size, but the synergy between all four is plain to see.
Overall, this album has exceeded my expectations and I am particularly pleased for Glenn Hughes who will gain many more friends and fans after one or two false starts on the big time comeback trail. So I'd like to see this album provide a platform for a world tour. It's no less than what Glenn Hughes deserves. Let's see if this supergroup can buck the historical trends and build on this undoubted triumph.
*****
Review by Keith Thompson

Joe Bonamassa and Derek Sherinian talk to Pete Feenstra,
London 21 September 2010 (Part 1)
Camera: Prakash Acharya
Joe Bonamassa, Derek Sherinian and Glenn Hughes talk to Pete Feenstra, London 21 September 2010 (Part 2)
Camera: Prakash Acharya
---
---