BERNIE WILLIAMS Moving Forward Inakustik INAK 9099CD (2010)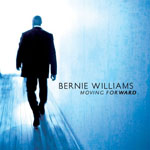 Bernie Williams certainly broke the mould in terms of his colourful career. Not only was he a baseball star for the New York Yankees, but he is also a classically trained musician whose interest in his Porto Rican heritage led to him being nominated for a Latin Grammy. More than that, he also signed a publishing deal with McCartney and this CD 'Moving Forward' - his second solo album - has already been nominated for a Latin Grammy.
So what are we to make of this multi talented songwriting guitarist with an album that features such heavy duty session players as David Sancious, Kenny Aronoff, Michael Landau, John Secada, David Koz, and a guest appearance by Springsteen and his wife Patti Scialfa?
Well surprisingly perhaps with a few exceptions when the schmaltz threatens to swamp some great playing, this is a fine with some great musical moments.
What at first appears to be a leisurely paced stroll through the kind of gentle acoustic workout favoured by Earl Klugh or even Lee Ritenour, turns out to be much more than that. For Williams is a fine acoustic guitarist with an acute feel for a melody. He's the kind of player who never settles in the kind of comfort zone that all too often swamps the creativity so many good session players.
'Moving Forward' does occasionally veer towards MOR on tracks like 'Just Another Day', which features Cuban vocal star Jon Secada, but there's enough of an adventurous spirit within a Latino rhythmic context to push the album beyond the mere interesting.
Bernie opens with the melodically strong title track and sets out his stall on the rhythmic 'Ritmo de Otono' which features some quite beautiful soprano playing from Dave Koz. But rather than settling for some blissed muzak, Bernie is far happier stretching himself in the company of some great players. And let's face it with a stellar cast list such as this, it take someone with a strong will to push the project that bit further.
The litmus paper is well and truly lit by the contrasting acoustic and electric solos when Bernie joins forces with Scott Henderson on the fusion influenced 'Songo' while the spiritual 'He Reigns' (without the any apparent lyrics mentioned in the liner notes) is a tour de force, with a rock solid beat and keyboard washes underpinning a delightful acoustic lead solo. There's real drive here and a strong melody as well as some sinewy soloing and a long ascending electric burst on the outro as Williams and Landau trade licks thrillingly.
The accurately titled 'Go For It' is another highlight with more delightful acoustic playing alongside some lovely warm sparkling rhythms as guest guitarist Mike Stern adds real feel, poise and delicious notes over a cool horn arrangement. There's an ocean swept West Coast feel to the piece that happily has enough spark, potent percussion and intuitive interplay to captivate the listener. In sum it's a lovely laid back groove that simply evokes smiles and contentment.
And for the rest of the album Bernie keeps things fresh and interesting by exploring different genres, be it the fast paced Latino jazz feel, Cuban style piano and high in the mix percussion of 'Que Rico El Mambo' or the opposite mellow 'African Blues' on which Bernie is joined by guitarist Julio Fernandez. The lovely percussive break, horns and unexpected walking bass line are all part of a beautifully judged arrangement that would not have disgraced Steely Dan.
And it gets even better on the relaxed 'Chillin in the West' which is the kind of song that sits perfectly amongst the rest of an inspired set and returns the focus to the acoustic as lead instrument. Then there's the more abrasive electric lead on the perfect meeting of AOR Rock and Latino on Secada's Billboard chart topping title track 'Otro Dia Mas Sin Verte'.
And just to add the icing on the cake, up pops Springsteen and Patti Scialfa on an off the wall rendition of 'Glory Days'. Springsteen also humorously adds, 'I've got good news for Bernie, he may be old for baseball but he's a spring chicken for Rock & Roll'
'Moving Forward' is a great album simply because Bernie's remains steadfast to exploring his musical vision with a flourish. 'Moving Forward' is that rare thing, a crossover project with great players who all leave their mark on an album well worth its 5 stars.
*****
Review by Pete Feenstra
---
| | |
| --- | --- |
| | Print this page in printer-friendly format |
| | Tell a friend about this page |