AYNSLEY LISTER Tower Sessions Manhaton Hatman (2010)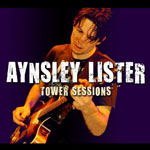 Aynsley Lister offers a new take on the recording hiatus that is most commonly filled by the live album. Only with 'Tower Sessions' there's a twist, as he's recorded his band in the venue originally earmarked for a live album but without a crowd and without losing any essential spark. For this is a fired up band at the back end of a 45 date tour that doesn't need to second guess each other. Or as Aynsley succinctly puts it they have; 'that end of tour tightness and interaction…….'
It's 3 years since Aynsley broke new ground by being featured as the only British representative in Classic Rock's Top 10 Contemporary Blues Artists. And if you include his Blues Caravan contribution its surprising to learn this will be his tenth album in a career that has seen him switch from 'up and coming' to take centre stage as a mature artist in his own right.
In that respect 'Tower Sessions' provides the perfect conduit between then and now For having been schooled on the rock/blues circuit Aynsley has recently been taking active steps to broaden his appeal through some inventive song writing and high profile tour dates with the likes of Lynyrd Skynyrd and ZZ Top. The results are plain to see in a mixture of collective confidence and individual dexterity on an album full of corruscating licks, wholesome grooves and intuitive interplay. Not so much powerhouse outfit perhaps, as a well drilled band leaning into its work with real passion, 'where everyone is tuned into each other'.
But it is Aynsley who steers the ship, not just via some impressive songs and eloquent playing, but also in his role as a producer, as he adheres to the conceptual notion of a 'live album' by paying due attention to the sequencing of the songs.
Thus he opens with some Walter Trout style riffage and bluster on the power shuffle intro of 'Soundman', delivering his sermon against his bęte noire, before slipping into a tightly clustered boogie on the metaphoric 'Sugar Low', full of scintillating slide work over a Hammond driven wall of sound. The number is also dynamically driven by a couple of contrasting descending and ascending pounding bass lines from Midus. There's also a glorious stop-start moment around the 3 min 45 second mark that is redolent of a tight road band pushing the envelope.
The fans favourite 'Purple Rain' comes early in the set. Aynsley bring things right down and builds up a lovely dynamic with the sweetest of notes over Dan Healey's intuitive Hammond backing, before adding an anthemic feel with some chiming notes and an Arcade Fire style choral line on the close.
There's a whiff of irony on the title of 'Quiet Boy' which is a muscular instrumental shuffle on which Aynsley shows real style, controlled power and a full bodied tone. It's the perfect link piece between the Prince cover and the strong melody line of the self penned 'Early Morning'. And just to add a sense of balance he follows that with a soaring vocal on the emotive ballad 'What's It All About' and some of his very best riffs on the outstanding 'Hurricane'.
In fact the inner dynamic of the album seems to mirror the high's and lows of a live gig as Aynsley pushes a little harder on 'Hero' where his solo momentarily evokes the Allman Brothers.
And as he heads towards the home straight there are more power riffs and a John Amor style vocal on 'With Me Tonight', although it's ultimately a trademark Aynsley number with telling chord changes and ripping guitar. Even the possibly ill judged cover of Hendrix's 'Crosstown Traffic' without the benefit of studio trickery is partially rescued by some fiery playing and he rounds things off with some blazing slide and a great hook on one of his very best songs 'In the Morning'.
If 'Upside Down' established Aynsley's rock credentials and the excellent 'Equilibrium' explored more contemporary influences, then 'Tower Sessions' is a telling nod to an accomplished back catalogue. This is especially so when you consider he is able to leave out songs like 'Big Sleep' and 'Balls of Steel' and still strike the perfect balance between getting the best out of his band and presenting a formidable cross section of his material. 'Tower Sessions' may not be live album in the old fashioned sense of the word, but its one hell of a private party.
****
Review by Pete Feenstra

---
| | |
| --- | --- |
| | Print this page in printer-friendly format |
| | Tell a friend about this page |