ATHLETE Singles 01-10 EMI (2010)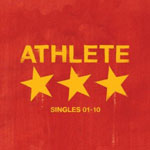 Despite having four albums under their belt, Athlete are a band that I have to confess to being unfamiliar with. At least, consciously. Sure, I know the name, but ask me to name a track or spot them in a record rack...
Which means I must have been in a coma for the last 10 years. The line up of Joel Potts (lead vocals/guitar), Carey Willetts (bass/backing vocals), Stephen Roberts (drums/backing vocals) and Tim Wanstall (keys/backing vocals) has been together since the boys were 14 and since they burst onto the scene in 2002 their music has been widely used on US TV series such as One Tree Hill, Ugly Betty and The OC, here at home on Dr Who and Top Gear, and on film soundtracks – for example, Russell Crowe's A Good Year). So they're clearly doing something right.
But the band's single output, for the most part, has had a tendency to 'bubble under' rather than smashing into the charts, which means that for the uninitiated, Singles 01-10 is the perfect place to start exploring all that Athlete have to offer.
It covers all the bases including El Salvador and Westside (amongst others) from the band's Mercury Award nominated debut album Vehicles And Animals (2003) and the quite magnificent Ivor Novello Award winning single Wires from their 2005 follow-up, Tourist. And, of course all the singles from the band's last two albums Beyond The Neighbourhood (2007) and Black Swan (2009). There's also a previously unreleased track in the form of Back Track which was originally destined for release in 2003, but never made the final cut.
Athlete are a band who have deliberately avoided being pigeon holed and perhaps, in a sense, that's been their commercial downfall. It's clear that melody and song structure come first every time and there's some lovely subtle arrangements and moments of deep beauty here – Wires being the prime example, but also the likes of The Outsiders, You Got The Style and Tourist.
For those who have bought the albums, 01-10 is available with an optional bonus disc featuring 17 tracks previously only available as b-sides, free downloads and the like. Which makes it a 'must have' for fans. And as I said earlier, for those like me who are unfamiliar with the band it's the perfect starting point. Strongly recommended for fans of the Keane/Elbow school of rock.
***
Review by Pete Whalley

---
| | |
| --- | --- |
| | Print this page in printer-friendly format |
| | Tell a friend about this page |