ASIA Omega Frontiers Records (2010)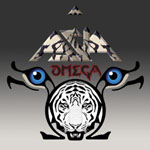 When the four original members of Asia reunited early in 2006, I remember a lot of cynicism about their motives and whether it would last. But a seemingly endless series of tours, and now a second studio album, is making this one of the more lasting reunions.
2008's Phoenix disappointed many, being a mellow effort which required repeated listening to appreciate some of the musical subtleties. Omega I sense will also divide fans, but for different reasons.
Generally it is more up tempo than Phoenix, with a glossy external production from Mike Paxman (Status Quo), and opens in stunning fashion with a rocker in Finger on The Trigger (admittedly a reworking of a track from John Wetton and Geoff Downes' Icon projects).
With its strong guitar melody and multi tracked vocals, for a moment it is 1982 again and Asia are all over the radio. However it is untypical of the album as a whole as only the penultimate song I Believe, complete with typically optimistic Wetton lyrics and some trademark 'parpology' from Downes, rocks out with similar conviction.
Their muso leanings are occasionally given full reign, notably on Light The Way where they stretch out a bit and show their chops, but generally reserved for their live shows. Instead the emphasis is on relatively straight ahead songs - maybe the album title is a reference to their 2nd album Alpha, which shared a Greek alphabet letter and the same musical philosophy.
On songs like I'm Still the Same and the closer Don't Wanna Lose You Now, the name of the game is more pop than prog, with an almost Beatles-esque influence.
The album is a mixed bag: the musicianship is exemplary and Wetton has never been in better voice after kicking his demons and surviving heart surgery. I particularly enjoyed Holy War, with Downes' piano to the fore, and End of the World featuring a rare Steve Howe solo.
On the downside, there are a number of excruciating moments: Ever Yours is a schmaltzy ballad, Listen Children is a good song, with a chorus with a slight Steeleye Span feel, spoiled by embarrassing lyrics, verging on the creepy, while Emily, a tale of a lover who 'bats for the other side' seems to be reciting the dictionary of the most clichéd ways of making lyrics rhyme.
A curate's egg of an album, but they should be commended for still moving forward with fresh sounds rather than just retreading past glories.
***
Review by Andy Nathan

---
| | |
| --- | --- |
| | Print this page in printer-friendly format |
| | Tell a friend about this page |