Just witnessed your best live gig?.. send us a review!
MOONDANCE JAM Walker, Minnesota
14-17 July 2010
While we congratulate ourselves in the UK at the emergence of new rock festivals such as High Voltage and Sonisphere, the classic rock festival is a tradition in the American heartland as familiar as barbecued ribs, Budweiser and wide open highways.
Moondance Jam, set among woods and lakes in the Northern Minnesota countryside, is now in its nineteenth year and broke all attendance records with apparently an 18,000 sell out all weekend.
With a choice of standing in a sandpit at the front, going for a VIP section or sitting in a lawn chair on a hill, generous set times of an hour and ten minutes minimum for each of the five daily bands, and two covered bars with local bands playing in between sets, not to mention the best of American customer service, the Moondance concert experience is a very agreeable one.
The turnout was helped by some defections from counterpart Rock Fest in neighbouring Wisconsin, which I used to attend regularly but which has moved in a more contemporary direction.
Having said that, Moondance is also finding it necessary to broaden its musical appeal, so after a fun eve of show party with some excellent tribute acts, the first full day had the most modern rock feel of any Moondance line up to date.
Thursday 15 July
Tonic opened and I awaited them with interest having heard some people sing their praises, and rather than the post-grunge I was led to believe, their widescreen style reminded me more of U2.
However my initially favourable impressions gradually faded when I realised how forgettable their songs were.
For all their youthful energy I didn't fare much better with Hoobastank, who I knew primarily for their hit ballad The Reason, but who were more in a Linkin Park or Lost Prophets mould. When The Reason finally got played, it got the biggest cheer to date but I'm afraid it sounded more like Coldplay to me. Full marks to them though for getting the crowd going, especially with a 'girls v boys' singalong to My Turn.
Collective Soul were well led by the charismatic, fair haired Ed Roland, coming over like a more intelligent version of Nickelback's Chad Kroger, and I enjoyed hearing their breakthrough song Shine, preceded by Ed teasing with snippets of classic tracks that influenced him, but their rather earnest songs again lacked the hooks to grab me.
To be fair, each of these three bands gave their all and were appreciated by large sections of the crowd, but simply did not appeal to my more traditional tastes.
Buckcherry were easily the best of the more contemporary acts. Brash, heavily tattooed and with that wasted glam look, they got a tremendous crowd response, and have not just the look but the stageshow to carry off the challenge of a large festival show and are well capable of inheriting the baton from the likes of Motley Crue.
New songs such as All Night Long and It's a Party were instantly catchy, while Lit Up's dedication to the delights of cocaine may be in dubious taste but got everyone going, as did the lyrically explicit Crazy Bitch, Rescue Me and the ballad Sorry. Meanwhile a cover of Highway Star was far better than I could have imagined with twin guitars replacing the classic guitar/organ duel.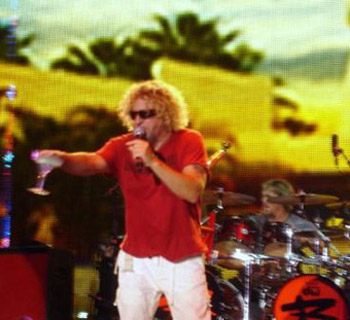 Thursday's headliner delighted us classic rock fans though, Sammy Hagar returning to action with his Waboritas band after his Chickenfoot project.
Expectations were high having seen him deliver three great shows at Rock Fest in the past, but the 'Red Rocker 'floored the late night audience with one of the most stunning openings to any show I can remember - his great fist punching anthems There's only One Way to Rock and I Can't Drive 55, Van Halen's chart topper Why Can't This Be Love, then a medley from Montrose's classic 1973 debut of Space Station No 5, Rock Candy and after some messing around with a steel guitar, Bad Motor Scooter with Sammy producing a great guitar solo. How could he top that?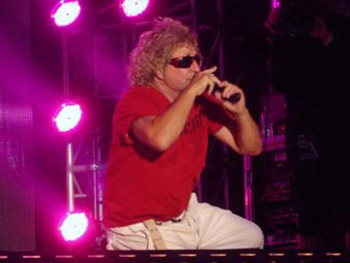 Well he couldn't, but I was pleased to hear a set focus heavily on his pre Van Halen work, mainly from the early eighties, so we got commercial gems like I've Done Everything for You, I'll Fall in Love Again, Your Love is Driving me Crazy and Heavy Metal, with guitarist Vic Johnson and bassist Mona joining in the singing.
He is still full of infectious energy and vitality at 62, swapping jokes and collecting tequilas from his bikini clad 'waitresses' and bantering with the crowd, so it was appropriate that the party anthem Mas Tequila (the only post-Van Halen song in his set) closed things before the mother of all confetti explosions.
Oddly though the encores, despite being Van Halen numbers, were slightly anti-climactic, a lengthy and bluesy Finish What Ya Started and a stripped back Right Now.
Friday 16 July
If Thursday was the day Moondance dipped into the last decade and a half, then Friday saw, to put it politely, a more seasoned line up.
Pat Travers opened the show and fortunately, since I last saw him has reverted from a blues fixation to the harder, two guitar style that made him a cult hero on both sides of the Atlantic in the late seventies and early eighties.
Josephine was one of two surprisingly good new numbers, Stevie developed into a fine guitar jam and even his trip into the blues was for an electrifying cover of Red House.
Snortin' Whiskey and the singalong Boom Boom Out Go the Lights delighted his long time fans (if not the bloke who had his Trowers and Traverses mixed up and kept shouting for Day of the Eagle!) while a blistering encore of Statesboro blues was exactly the type of heavy boogie that goes down well here (as Foghat and Grand Funk last year).
Next up were The Smithereens, who to my shame I had never even heard of when they were added to the bill, before familiarising myself with a cheaply acquired compilation.
Dressed all in black but with singer Pat Dinizio not looking in the best of health, they rattled through a series of punchy, catchy songs including minor US hit singles such as Girl like You and Blood and Roses in a manner which blended the New Wave styles of the likes of the Knack and the Cars with an affection for the British invasion of the sixties: indeed they also played a medley of Who songs from Tommy and slipped a snatch of Behind Blue Eyes (with the crowd singing along word perfect) into an enjoyable set. You could do a lot worse than check out their material.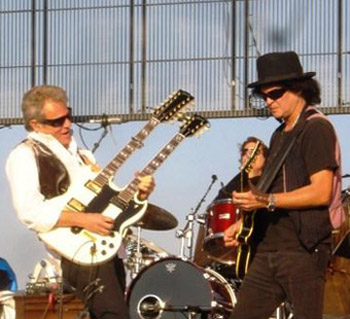 Emerging from watching a Heart tribute in the saloon bar, Don Felder had just hit the stage, and the iconic double neck Gibson guitar strapped around his neck could only mean he was opening with Hotel California, with a great duel with fellow guitarist Frank Simes.
Dressed in the ageing classic rocker's uniform of white shirt, black jeans, leather waistcoat and shades, the scene was set for a set almost entirely composed of Eagles classics - from the seminal country rock of Already Gone, gentler moments such as One of These Nights, Peaceful Easy Feeling and Tequila Sunrise, to more guitar oriented songs like These Shoes and Victim of Love.
His voice is undistinctive, but serviceable as well as being backed by some great harmonies, and his controlled, slightly bluesy guitar work exemplary, a bit like an American Clapton.
He was also backed by a band of star session players including Whitesnake's Timothy Drury on keyboards. To be harsh, this was a glorified Eagles tribute but the nearest a Moondance crowd would ever get to seeing them.
This impression was confirmed when he ended his set as the Eagles do, turning up the guitars for Heartache Tonight with his trademark slide guitar and Life in the Fast Lane, before an encore of Take it Easy.
The perfect soundtrack to a sunny early evening in the heart of America put a big smile on my face and for me, Don Felder was the most pleasant surprise of the Festival.
REO Speedwagon and Pat Benatar brought their tour to Moondance, with Pat and band going first. When I last saw her about three years ago she came over a bit 'mumsy' but, dressed in a long black coat and with long russet coloured hair, she looked every inch the rock goddess again, even at 57.
Husband Neil Geraldo took a lower key role but his guitar and arrangements were essential, while they told interesting anecdotes about the origins of the songs. My one gripe was the visual oddity of Neil constantly going to the piano, but usually not to play, but to mess about with some sequencers and programmers.
Despite Pat's promise they would be choosing some obscure tracks, in the time available this was a strict Greatest Hits set, beginning rockily with All Fired Up and including AOR anthems Shadows of the Night and Invincible, the more epic promises in the Dark and Hell is for Children and poppier moments such as We Belong and Love is a Battlefield, not to mention an acoustic treatment of You Better Run.
Pat was in good voice, but allowed the crowd to take over for Hit Me With Your Best Shot, while Heartbreaker, with a great solo from Neil, closed a set that was as rocky as anyone could have expected.
REO Speedwagon had opened with a long and rather contrived intro tape, replicating a broadcast from 1980 with 'Hi Infidelity' about to be released.
As they launched into Don't Let Him Go and Keep On Lovin You, still the ultimate in power ballads, with Kevin Cronin playing guitar and leaving the grand piano intro to Neal Doughty for once to maintain continuity, I thought they were about to play the whole album in sequence, and indeed was relishing the prospect of hearing some different songs live, but after In Your Letter and Take it On The Run they returned to a regular set.
It is said so often to become a cliché, but REO are a different proposition live from the hit ballad band they are pigeonholed as (but yes, yogurt lovers, Can't Fight This Feeling did get played).
They are a road tested, straight ahead rock band with a big sound perfect for festivals such as this. The set focused heavily on seventies songs such as Keep Pushin, Golden Country and Time for me to Fly, before the rock factor was notched up even more with Bruce Hall (whose hometown of Champaign, Illinois is name checked at every REO show I have seen) taking the mike during the relentless boogie of Back On the Road Again (the theme song of two travelling rock fans from France I met in my hotel!) before, from its keyboard beginnings, Roll With the Changes builds into a jamming guitar-heavy groove.
Throughout it all, guitarist Dave Amato grimaces and gives it his all, and he and Bruce charge from one end of the stage to the other.
Kevin Cronin meanwhile, trim, grinning, and hyperactive, skips across the stage whipping the crowd up like a fitness instructor from eighties breakfast TV, while keeping his usual monologues relatively short.
The traditional encores Ridin' the Storm Out and 157 Riverside Avenue rocked the crowd into the night in similar vein, and although the set list was predictable, I never fail to be uplifted by the joy that REO bring to their craft. Sadly the hotel fridge was empty of Muller Fruit Corners when I got back.
Sunday 18 July
Trying to find a theme to each day, a well balanced Sunday line up saw old and new bands each influenced by traditional musical forms such as blues and country, but very diverse in how they have used their influences.
First up were relatively new Southern rockers Blackberry Smoke, whose singer had the biggest pair of mutton chop whiskers since Noddy Holder : for most of the early bands there was usually just a small knot of people in front of the stage but they seemed to have bussed it a whole fan club.
They won at least one new admirer with a sound that veered between Southern Rock and Country - with Prayer for the Little Man in the same down-home style that has seen the Van Zant brothers become country crossovers, and Up in Smokeand set closer Freedom Song in the former category. At times their rhythmic grooves and some soulful organ playing also reminded me of the Allmans.
Black Stone Cherry are better known, at least in the UK, and the young Kentuckians are a much heavier proposition. Indeed, at indoor shows I have been bludgeoned by their sheer volume at the expense of quality but in the open air, although still uncompromisingly heavy, the sound was more palatable.
There were few surprises in the set with familar songs from the first album - Lonely Train, Hell or High Water and Maybe Someday, and the more classic rock inspired follow up, such as Blind Man, and the Zeppelin-esque Please Come In.
As usual their hyperactive energy, particularly drummer Jon Fred Young and rhythm guitarist Ben Wells, was exhausting just to watch, and with youth on their side they can be a force for years to come, effectively spanning both classic rock and modern metal.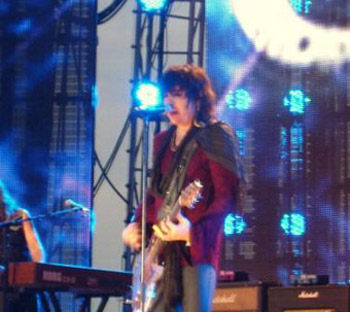 Having missed their first UK appearance in nearly 20 years at Download, I got to see Cinderella on home soil, again with a set that focused entirely on their first three albums.
Starting with some of the more basic AC/DC meets Aerosmith numbers such as Push Push, Second Wind and Falling Apart at the Seams, the set gradually diversified with numbers such as an acoustic Heartbreak Station, and Coming Home with its beautiful twin guitars.
Tom Keifer was in good voice and the bluesy, often slide or lap steel guitars of him and Jeff La Bar are unfairly overlooked when Cinders are discussed in the same breath as the hair metal bands.
The Stonesy groove of Shelter Me (ironically as the rain came down during their set), even featuring a sax solo from Tom, and a powerful Nobodys Fool was followed by Gypsy Road, although that seemed to be the one song where Tom really struggled vocally.
For the encore, a giant piano was wheeled on for that great power ballad Don't Know What You've Got Till Its Gone , before Shake Me did exactly that to a packed crowd at the front and ended a set which was a reminder of Cinderella's underrated qualities. But will they ever record any new material?
Second on the bill was Jonny Lang, whose material I did not know but I was certainly familiar with his revered status as one of the blues' new generation of guitar heroes.
I was so disappointed - expecting some fiery blues rock a la Kenny Wayne Shepherd or Joe Bonamassa, instead the set meandered for long periods with funk, soul and jazz influences more to the fore, as in a cover of Living for the City. Oddly, on the one song that impressed me, Lie to Me, it was his singing not his playing that caught the eye.
That said, he did enjoy a good crowd reaction, possibly as a local boy made good, but I'm afraid he bored me.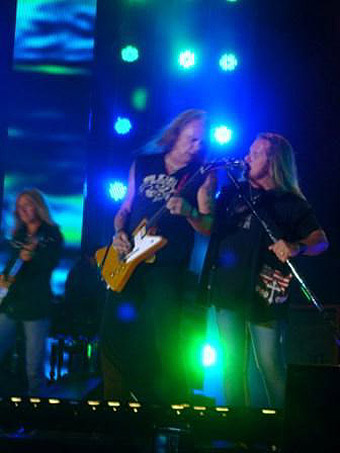 One of my favourite musical discussions is to ask people which American hard rock band has the greatest legacy. Aerosmith, Kiss and Van Halen top many people's lists, but in my view, but for the plane crash Lynyrd Skynyrd could have gone on to be as revered as the likes of Led Zeppelin. So it was entirely fitting that the 2010 version of Skynyrd closed Moondance's biggest festival yet.
As anyone who saw their last two UK tours will testify, Skynyrd certainly know how to put on a show and the crowd lapped up every minute of it, from the moment they came on stage to Workin' for MCA.
For all Johnny Van Zant's geniality as a frontman, the visual and musical focus of Skynyrd falls on their triple guitar attack: Ricky Medlocke, covering every inch of the stage and combining fiery solos with engaging directly with the fans at the front; last remaining member from the classic line up Gary Rossington, an impassive, almost immobile figure under his cowboy hat; and increasingly impressive new boy - and Robbie Savage look-alike - Mark Matejka.
At times, such as during a superb That Smell, it was hard to follow the twists and turns of the way they delivered solos individually or in harmony.
All the favourites were present and correct, from the singalong What's Your Name to a beautifully judged Simple Man, and even when three of them were sandwiched into a medley, it was done in a way that did not seem rushed.
My one disappointment was that it was back to a nostalgia show with just a solitary new number in Skynyrd Nation - whereas their modern classic Still Unbroken had actually been my highlight of their Hammersmith show.
As at every Skynyrd show, the pace quickened into the home run of favourites Gimme Three Steps, Call Me the Breeze (Peter Keys adding the trademark honky tonk piano, but a crowd banner that read 'RIP Billy Powell' a reminder of how he is sadly missed), and Sweet Home Alabama, as the band hit those southern grooves and synchronised their stage moves.
No surprises for the encore- as Johnny repeated the landmark words of his late brother 'what song is it that you wanna hear' and sang Freebird with Gary's slow, melancholic slide guitar stirring the blood, before the band broke into a frenzy of guitar jamming.
As the other two guitarists duelled frantically as the song came to a climax, I took a look at the warm summer's evening, a crowd on a high from three days partying and great music, and the stage in front of me with a perfect sound and great lighting rig, and it occurred to me- Carlsberg don't do rock festivals, but if they did it would be like Moondance Jam.

SETLISTS:
Sammy Hagar and the Waboritas

There's Only One Way to Rock/I can't Drive 55/Medley: Space Station No 5/Rock Candy/Bad Motor Scooter/Best of Both Worlds/Three Lock Box/I've Done Everything for You/Whole lotta Love/The Girl Gets Around/I'll Fall in Love Again/Your Love is Driving Me Crazy/Heavy Metal/Mas Tequila.
Encores: Finish What Ya Started/Right Now.
Pat Benatar

All Fired Up/Shadows of the Night/if You Think You Know How to Love Me/Invincible/Promises in the Dark/We Belong/You Better Run/Hell is for Children/Hit me with your Best Shot/Love is a Battlefield
Encores: Lets Stay Together/Heartbreaker
REO Speedwagon
Don't Let Him Go/Keep on Lovin You/In your Letter/Take it On the Run/Keep Pushin'/Golden Country/Can't Fight This Feeling/Like you Do/Time for me to Fly/Back on the Road Again/Roll with the Changes.
Encores; Ridin the Storm Out/157 Riverside Avenue
Lynyrd Skynyrd

Workin' for MCA/I aint the One/Skynyrd Nation/Whats Your Name/Down South Jukin/That Smell/I Know a Little/Simple Man/Medley: Gimme Back my Bullets, Double Trouble, needle and the Spoon/Gimme Three Steps/Call Me the Breeze/Sweethome Alabama.
Encore: Freebird

Review and photos by Andy Nathan
---