Just witnessed your best live gig?.. send us a review!
THE WISHING TREE
Bush Hall, London 20 December 2009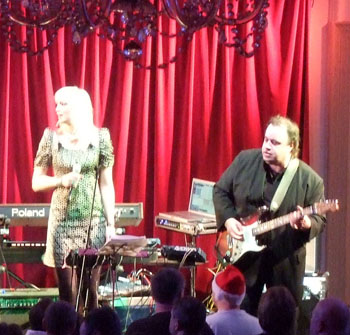 The Wishing Tree is the side project of Marillion's guitarist Steve Rothery who released their first output back in 1996 with 'Carnival Of Souls'. Fast forward 13 years and Steve has taken time out from his day job and released the second offering 'Ostara' with the delightful Hannah Stobart taking on the vocal duties. A marriage made in progressive folk rock heaven.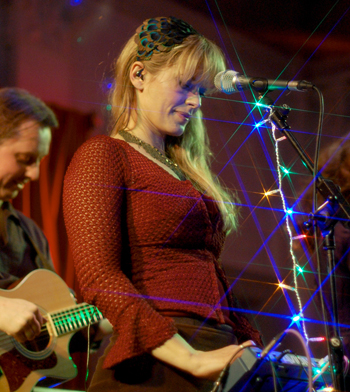 Photo: Andrew Lock
On a freezing cold winter's night, a few days before Christmas, the Shepherds Bush Hall is the perfect setting for this time of year, looking like a place where you would come to watch the local pantomime (''Oh! no it isn't.''), the only thing missing is some warm mulled wine (''Oh! yes it is.'')
On a night like this you need a warm up act so to speak, and I was surprised to see Steve Rothery and fellow Marillion bassist Pete Trewavas walk on stage and break into a few cover versions. I actually enjoyed the pub rock standards of 'White Room', 'Come Together', ' Mustang Sally' and 'Make Me Smile (Come Up And See Me)' with some great vocals from friend Gary Palmer, but there was trouble brewing (''Behind You!'').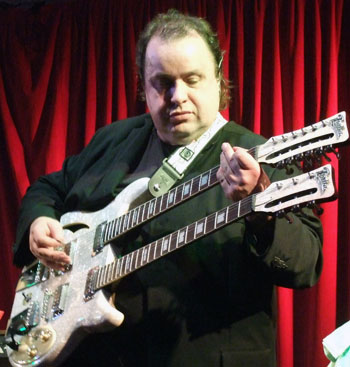 Drummer Phil Beaumont was tapping away on the drum case. At the end of this short four song set, Rothery took to the microphone and explained that the electronic drum set had malfunctioned and had been awaiting a new set from the local hire shop and had just arrived. So with a little interval whilst they set up the drums, it was time to pay a visit to the bar and chat to a couple of fans.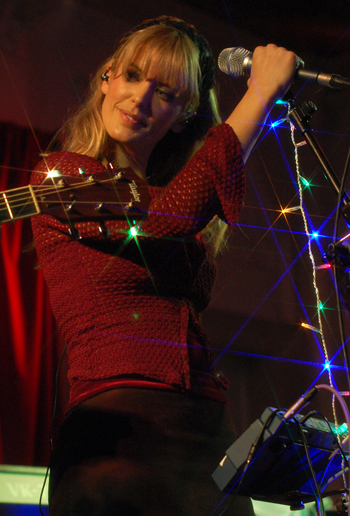 Photo: Andrew Lock
Hannah Stobart who wrote the lyrics for the new tracks looked beautiful and elegant with the sound of an English rose.
The evergreen er...'Evergreen' was the only track from 'Carnival Of Souls'. Songs from the new release 'Ostara' had a lot more depth to them in the live setting compared to the polished CD.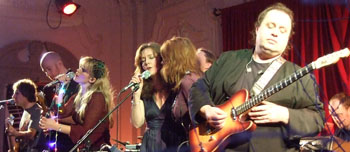 'Fade Into You', a cover of the 90's hit by Mazzy Star, was a welcome addition to the set making the song their own. Rothery's daughter Jennifer joined in on backing vocals.
This was a surprisingly enjoyable set and after the curtain call the band returned to live out some fantasies of songs they must have performed in front of the mirror a thousand times in their youth.
Hannah Stobart living the Stevie Nicks 'Dreams' with the Fleetwood Mac cover followed by a chance for Pete Trewavas to do his best Roger Waters impersonation with the bass and vocals on the Pink Floyd roasted chestnut 'Comfortably Numb'.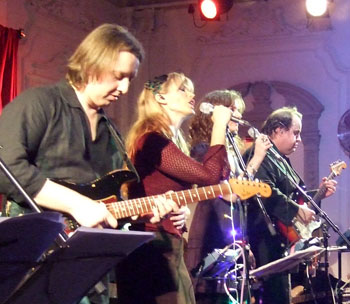 It's a shame that this is only a side project, because with full time commitment this could turn into something bigger, but with more big plans for Marillion in 2010 as well as the forthcoming Transatlantic dates for Trewavas, it looks like Wishing Tree will have to go back in the loft with the Christmas decorations in the new year. Let's hope they will still have that glitter at the end of next year.

Set list : Seventh Sign/Fly/Evergreen/Kingfisher/Falling/ Fade Into You/ Hollow Hills/Ostara...Encores: Dreams/ Comfortably Numb


Review by Mark Taylor
Photos by Andy Rawll and Andrew Lock
---
---