VARIOUS Voices Of Rock II 'High & Mighty' Metal Heaven (2009)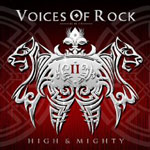 Michael Voss (Casanova / Silver/ Mad Max) and Chris Lausmann (Bonfire / Jaded Heart) return with another melodic rock feast featuring ten vocalists and a couple making a welcome return to the scene.
Overall the songs are very enjoyable and if you like the vocalist concerned you will be more than happy. Personal highlights include Joe Lynn Turner on 'Tonight' which sounds like the Sunstorm material he does.
Paul Shortino puts in a fine blues rock vocal to match the heavy 'Rock Me' and Tony Mills dons his more melodic hat for 'In The Heart Of The Young', a classy 80's feel melodic rocker.
Two welcome returns are former Vandenburg singer Bert Heerink on 'Shame On You' and Skagarack vocalist Torben Schmidt on the ballad 'Only 4 Ever'. Both are still in fine voice and in Heernik's case he has a solo album due soon as well.
Not so good is David Reece the current Gypsy Rose and former Accept vocalist who has never really impressed me vocally and Paul Sabu still sounds a pale imitation of his vocals on the Only Child and solo albums of the 80's.
The other vocalists on the album are Mitch Malloy, Tony Martin (ex-Black Sabbath) and Rob Rock with the CD version (sadly not on the promo version) adding Michael Voss doing his version of the 80's hot 'Maniac'.
Another good mix of vocal talents and songs that achieves the aims of Voss and Lausmann in that you'd play this album at full blast in your car driving down the freeway (or motorway depending on your location). Looking forward already to the third instalment!
****
Review by Jason Ritchie

David Randall talks to Michael Voss about Voices of Rock 2 (7:50) 24 September 2009
(Real Audio Player required)
© 2009 David Randall & Get Ready to ROCK!
---
| | |
| --- | --- |
| | Print this page in printer-friendly format |
| | Tell a friend about this page |
***** Out of this world | **** Pretty damn fine |
*** OK, approach with caution unless you are a fan |
** Instant bargain bin fodder | * Ugly. Just ugly
get ready to rock is a division of hotdigitsnewmedia group