TRANSATLANTIC The Whirlwind Inside Out (2009)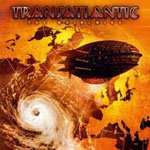 What do you get when you bring together in the same band drummer extraordinaire Mike Portnoy (Dream Theater), bassist Pete Trewavas (Marillion), guitar wizard Roine Stolt (The Flower Kings) and vocalist Neal Morse (ex Spock's Beard)? Those of you who are in no way acquainted with any of the previous names and are not aware of the moniker which unites these accomplished artists might want to consider whether visiting our website was indeed the right thing to do - the rest have already realised that a new Transatlantic album is about to be released and that a poor author, yours truly, has been assigned with the difficult task of reviewing it.
Why is it that it took Transatlantic eight whole years between their previous full length "Bridge Across Forever" and their latest opus "The Whirlwind"? Well, take a look at all the band names mentioned in brackets in the above paragraph and you have automatically answered your own question, with busy recording & touring schedules with main bands most probably being the first thing that springs to mind. It is probably due to the fact that we are living in an era of fast and easy communication that we can today talk about the release of a new Transatlantic album. Well, the purpose if this review is not to analyse the importance of technology in arts in the 21st century, but to describe what these four prog masters have prepared for us this time round, so... let's get cracking!
One thing that I always appreciated about Transatlantic as a band is that, even though it consists of musicians who are in technical terms highly skilled, their main strategy was to first ensure that each composition would boast a nice catchy melodic theme and then to ensure that these melodies are supported with samples/moments of prog brilliance. In that respect, "The Whirlwind" is no different than any of the bandís previous studio albums. The one thing, however, that the fans of this band will almost certainly notice is that these twelve compositions are more than ever before the product of a musical process that saw each and every member of Transatlantic contributing equally, both in terms of composition and performance.
The nine minute opus "Overture/Whirlwind" not only serves the purpose of the opening composition of the album, but is also a statement of intent on the part of the band, as throughout its long duration we find proof of the happy co-existence of intricate performances and catchy melodies. The first composition that really shook my world was "The Wind Blew Them All Away", whose Floyd-esque guitar parts and breathtaking chorus/refrain reminded me a lot of the band's classic ballad "We All Need Some Light". By way of contrast, the six minute opus "On The Prowl", featuring a Doors-influenced keyboard theme and light jazz guitar parts brought out the experimental side of the band, followed by the quite theatrical "Man Can Feel".
Half way through the album, you get the feeling that each composition can stand as a separate entity but also work collectively as a huge musical unit - a feeling that will be further re-instated by listening to all the remaining compositions of the album such as the Yes-influenced "Evermore", the more straight-forward Hard Rocker "Lay Down Your Life" and the short but quite experimental "Pieces Of Heaven". Whilst you are at it, you will most probably be swept away, as I was, by the catchy choral refrain of "Out Of The Night", the beautiful guitar melodies of "Rose Colored Glasses" or the grand piano atmospheric tunes of "Dancing With Eternal Glory/Whirlwind (Reprise)". The moment you realise that something like this is happening, don't try to fight back - just relax, close your eyes and allow these four experienced troubadours to take you on a musical journey that only a handful of albums are capable of even attempting nowadays.
I am so excited and pleased with what "The Whirlwind", that I am considering completely forgiving Transatlantic for having kept me waiting for a new album for almost a decade, and that is a massive effort on my part! What makes this album so damn special is not only the ease with which it will manage to win you over, but also the efficiency with which it will establish itself in your conscience - all of which you will eventually come to embrace with a huge smile on your face! Transatlantic have done their bit: they have released an album worthy of anyone's expectations - now it's your time to do yours and invest in it!
****½
Review by John Stefanis
---
| | |
| --- | --- |
| | Print this page in printer-friendly format |
| | Tell a friend about this page |