THEA GILMORE Strange Communion (2009)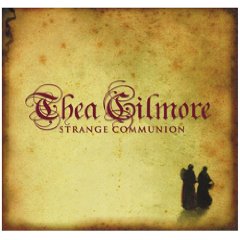 Let's be honest - Christmas albums are naff. Well, can you name one that's not totally inappropriate at any other time of the year? Thea Gilmore's new album Strange Communion is about to change that. For while it explores the underbelly of the festive season, it's nevertheless a very worthy addition to her already impressive canon of work.
The album opens with Sol Invictus a haunting Clannad style number recorded in collaboration with the Liverpool Sense Of Sound Choir - a song about the day after the winter solstice on December 25th when the darkest point of the year begins to recede.
It's followed by the gentle, string backed Midwinter Toast - a song first performed by Thea 5 years ago. Cold Coming is classic Thea Gilmore at her acoustic rock best, inspired by the first line of TS Eliot's poem Journey Of The Magi, while That'll be Christmas is a light pop take on the 21st century festive season (with a few bells thrown in for good measure). If it doesn't become a staple of the season, there's no justice.
Listen The Snow Is Falling revisits a Yoko Ono's neglected Christmas classic, and Drunken Angel a lovely lament. And while The St Stephen's Day Murders cover of an Elvis Costello / Paddy Moloney (Chieftains) number delivered as a duet with Mark Radcliffe shouldn't work, somehow it does, with Mark's best Shane MacGown impression impossible to dislike.
December In New York is another beautiful number and standout track written some 9 years ago before Thea had visited New York. On the other hand, Book Of Christmas / Autumn journal is a recital of a piece of 1930's poetry. Interesting, but not a track you're likely to press 'repeat' on too often.
The album closes with the tender Old December - Thea's personal celebration of December -a time for peace, hope and goodwill to all men (and women).
So never mind Bah Humbug, forget your Christmas album prejudices and catch Thea's Strange Communion tour that runs almost until Christmas Day. And don't be put off by the 'Christmas album' tag. Strange Communion ain't no turkey.
***½
Review by Pete Whalley
---
| | |
| --- | --- |
| | Print this page in printer-friendly format |
| | Tell a friend about this page |