STRATOVARIOUS Polaris Edel/Ear Music (2009)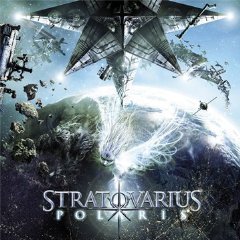 The first album by the band since they freed themselves off their old label Sanctuary, waved goodbye to former band mainman Timo Tolkki (who went onto form Revolution Renaissance) and welcome new guitarist Matias Kupiainen. With so many major changes would this affect the band's sound? The answer is not majorly but keyboards player Jens Johansson certainly seems to get more promient lead spots than previously. You can but marvel at the speed at which he sometimes plays his keyboards!
The band keep a nice mix with some breakneck speed metal on 'Speed Of Light' and 'Forever Is Today' and a couple of slower ballads like the musically sparse closer 'When Mountains Fall'. The latter makes a refreshing change for the band and a break from the the all out speed playing on keys and guitar. The two part 'Emancipation Suite' has plenty of keyboard/guitar trade offs plus some epic musical arrangements.
If there is one criticism its that at times they sound like other bands such as Gamma Ray. No bad thing in itself but Stratovarius have always had their unique sound like the aforementioned Gamma Ray which other bands try to copy or are influenced by.
Considering all the changes the band have been through in the past few years this is a very strong set of songs and draws a line under the past of the band. A bright future beckons again for one of the best bands in the metal genre.
****
Review by Jason Ritchie
---
| | |
| --- | --- |
| | Print this page in printer-friendly format |
| | Tell a friend about this page |
***** Out of this world | **** Pretty damn fine |
*** OK, approach with caution unless you are a fan |
** Instant bargain bin fodder | * Ugly. Just ugly
get ready to rock is a division of hotdigitsnewmedia group