Just witnessed your best live gig?.. send us a review!
SKIN
O2 Islington Academy, London 7 December 2009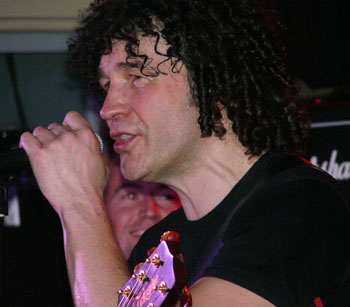 Photo: Joe Black
The inevitable cycle of bands reforming now seems to have reached those from the mid 1990's (Skunk Anansie, Gun, Terrorvision etc), and no comeback has been more surprising nor as welcome as that of Skin.
Having split up in 1998, and taken jobs in areas as far removed from rock n roll as accountancy, youth work and personal training, this year they were persuaded to reform to play Download, and have now followed a series of acclaimed warm up dates and acoustic support slots with Chickenfoot and Mr Big with a nationwide tour.

It was a support slot with Little Angels that first propelled Skin to prominence in late 1993, so the wheel had come full circle as their former singer Toby Jepson provided the support slot with a set of Angels songs - She's a Little Angel, Kicking up Dust, Don't Prey for Me, I Ain't Gonna Cry, Boneyard, a medley of Young Gods and a cover of Won't Get Fooled Again, and Too Much Too Young.
Armed just with a guitar, he bravely got some singalongs going at the front. However some people can make the acoustic format work, but these songs desperately needed a full band to replicate their trademark energy. A Little Angels reunion is what we really want to see!

Skin played for under an hour and a half but not a single moment was wasted on solos and other padding. Guitarist Myke Gray, bassist Andy Robbins and drummer Dicki Fliszar created an aggressive but lean sound that was as taut and muscular as one of Myke's personal fitness clients. Singer Nev MacDonald kept chat to a minimum but, quite apart from his powerful, expressive voice, acted as the genial frontman with his big smile.

The opening few songs were all from their second and third albums: at the time I dismissed them as 'Skin go grunge' but, with the passage of time the likes of the opening trio The Only One, Spit on You and How Lucky You Are now impress for their sheer tightness and the controlled anger housed within them.
House of Love got the crowd going before a surprise acoustic interlude in which they previewed two new songs, the autobiographical Reunited and Redemption, with some great laid back bluesy guitar.

However it is the songs form their most popular 1994 debut which will always be at the heart of Skin's set and so it proved with Colourblind and Money, with a great closing solo from Myke.
Take Me Down to the River raised the bar even higher before the great singalongs Look but Don't Touch and Tower of Strength, which took on a new dimension as it segued into a powerful version of the Who's 'Tommy' classic Listening to You.

Their rocked up cover of Unbelievable was the first encore, with Toby Jepson joining them on stage, before finishing with Perfect Day and the now rarely played Shine Your Light.

As the Skin reunion rolls on I can wholeheartedly recommend you catch them in 2010.

Review by Andy Nathan
Photo by Joe Black
---