RODRIGO Y GABRIELA 11:11 Rubyworks (2009)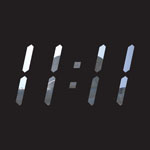 Three years on from the Mexican duoís eponymous set (which has since gone gold), and the band have built up a fearsome live reputation. But what of a new studio album, this time with no big name covers (previous numbers include Metallica, Led Zeppelin and Pink Floyd).
For those not familiar with their music, think hard rock played intricately on two nylon strung acoustics. And no strumming! As usual, the intricate soloing is largely provided by Rodrigo, with the rhythm provided by Gabriela who not only riffs but also slaps and thumps both strings and guitar body. Itís a style honed by, after playing together in a heavy metal band, busking on acoustics. And the title of this album comes from the 11 self penned tracks each paying tribute to a musical great who has influenced them.
Opening track 'Hanuman' is, stylistically the closest you get here to the rock covers of earlier outing, while 'Buster Voodoo' moves in a more jazz direction with a distinct nod to Hendrix. Compare that to 'Trivini', an upbeat number with a middle break that goes slightly Latin.
'Logos' is the first track to break from their usual style, the rhythm more arpeggio based. If this had been acoustic and piano it wouldnít have sounded out of place on Emerson Lake & Palmerís debut album, or a Pete Sinfield set.
This album is pretty varied, but equally as furious as 2 nylon acoustics can physically get. In the absence of vocals, this break up makes for a more scintillating full album than just playing the one style throughout. And no that isnít bongos in 'Santo Domingo', itís Gabriela working her guitar overtime. And a notable guest is Testamentís Alex Skolnick.
If youíve ever picked up a guitar, youíll find something interesting. I just hope the keep up with the odd cover.
****
Review by Joe Geesin
---
| | |
| --- | --- |
| | Print this page in printer-friendly format |
| | Tell a friend about this page |