RIOT Thundersteel/The Privilege Of Power
(2-CD) Iron Bird/Cherry Red Records (2009)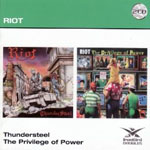 Another double CD re-issue, although again there are no bonus songs. Riot were formed as far back as the mid-70's and became a cult band here in the UK after appearing at the first Monsters Of Rock festival. Only guitarist Mark Reale remained by the time of 1988's Thundersteel, which saw the debut of new vocalist Tony Moore.
Listening to this album you can see where Judas Priest maybe got some of their sound for their classic 'Painkiller' album. Tony Moore does a decent Rob Halford approved metal scream that's for sure. The title track, 'Fight Or Fall' and 'Flight Of The Warrior' still sound as good as they did when I first bought this album on vinyl. Good, solid classic metal tunes with plenty of fast guitar solos. Definately one of the better 80's metal albums. ****½
1990's The Privilege Of Power saw the band take a radical direction producing a concept album with songs interlinked with news snipets. But the real surprise was the band bringing in the Tower Of Power horn section and also a brief guest vocal appearance by former Rainbow singer Joe Lynn Turner. The fast paced metal still exists in songs like 'Metal Soldiers' and 'Storming The Gates Of Hell'. The band even manage a decent AOR song in 'Maryanne' which would look more on home on a Danger Danger album.
The album certainly split the fans on its release and the band never registered much again bar amongst their fanbase. But that has changed in the past couple of years as these two albums have been cited as influencing more modern metal bands and the line-up that recorded these two albums are back together touring, with a new studio album promised next year as well. ***
For a good example of 80's metal look no further than 'Thundersteel' and even 'The Privalege Of Power' has mainly stood the test of time as well.
Review by Jason Ritchie
---
| | |
| --- | --- |
| | Print this page in printer-friendly format |
| | Tell a friend about this page |
***** Out of this world | **** Pretty damn fine |
*** OK, approach with caution unless you are a fan |
** Instant bargain bin fodder | * Ugly. Just ugly
get ready to rock is a division of hotdigitsnewmedia group