Emotional Paul is the real deal...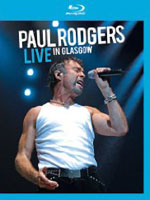 This is the first ever Paul Rodgers Blu-ray release and the only solo concert by this great talent to be filmed. Includes classic tracks sung by the possessor of one of the great rock voices. As the front man of 'Free' and then 'Bad Company' he also established himself as one of the great rock performers and classic songwriter.
In 2005 he joined forces with 'Queen' on their first full tour without "Freddie Mercury", an association he has continued with their recent new studio album and accompanying tour. This Blu-ray was filmed in Glasgow on his sell out autumn 2006 UK tour and features powerful performances of songs from his career.
First off is the title menu - not your standard back drop with menu, but a groovy video of the track "Alright Now", deliciously tempting me to endure the latter of the film. After selecting 'play all' I am blown away by the sheer loud, neat and well balanced sound quality. Yet, I am also fronted with a very bare stage,; no back drops, just instruments and band members and simple lighting; which in hindsight makes absolutely no difference to this very energetic show.
'Paul's vocals are still powerful, extremely in tune with a wonderful range releasing a pure confident awe to the audience. The crowd seem very quiet at the moment, they are all sat down in this smaller venue and it takes bassist "Lynn Sorensen" to get the crowd going with some high aired clapping and shouting and after a little persuasion, the crowd finally get on their feet and realise that they are indeed here, to watch one of the legends from rock and the delightful fun atmosphere finally protrudes.
Isn't it strange when you don't quite realise how many storming rock tracks "Paul" has actually been involved with! Not only that but how did he manage to keep his ultra fit body and energy to run around the stage singing, playing guitar and piano, there isn't many artists like that in this day and age. For some reason I am actually quite emotionally touched for "Paul" when he smiles gleefully after every track with an almighty applause. He is a true frontman!
What I like most about this DVD, is how live it actually feels, you can hear the crowd shouting and singing and the picture quality is so neat that you sit right in front of the TV and imagine you are there. That's what Live DVDs are all about!
Paul ends the set with an acoustic guitar and a rendition of "Seagull" which again brings an emotional tear to my eye, that emotional tear stays with me right into the bonus part of the DVD with his son "Steve" on acoustic guitar singing in the same voice as his Dad, making a parent very proud.
The other bonus material on this disc include interviews with Paul, the band and the fans, however, they aren't really interviews, but back stage footage of the band practising for the nights show; so don't expect an insight into Paul on a personal level.
Another great addition to this release is the nice sweet 12 page inlay booklet which contains various photos from the tour and Paul's own written comment for each photo, making that tear come to my eye again!
To sum up, this is indeed a very fine release, emotional, full of quality and feeling and next time "Paul" is touring - I'll be there, no matter what!
*****
Review by The Fluffmeister