MASTERS OF REALITY Pine/Cross Dover Mascot Records (2009)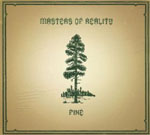 Masters Of Reality have never had the commercial success they deserve despite some good reviews back when they started in Kerrang! Maybe it is because the band, which is basically mainman Chris Goss, are so musically diverse despite often being lumped in with the stoner rock sound.
Whatever the reason each one of their previous four albums are aural treats and this new continues that fine trend. Joining Chris Goss are long standing drummer John Leamy and a couple of guest appearances by Eagles Of Death Metal bassist Brian O'Connor and guitarist Dave Catching, as well as former QOTSA guitarist Brendon McNichol.
Highlights are many but to pick a few 'Worm In The Silk' is a new musical departure for the band into dub bass. The thing I love about this band is whatever musical sound they try the melody still remains the focal point. 'Always' has the Beatles influence pop up again whilst 'Dreamtime Stomp' is the most instant song and has a very catchy chorus. If MOR did singles this would be the one and in an ideal world it would be a hit.
The album closes with a twelve minute plus jam session entitled 'Alfalfa'. The sleeve notes say this was recorded in one take and it will be right up the street of fans of bands like Cream and Widespread Panic.
Another strong album and hopefully this album will get heard beyond their loyal fan base as it would be criminal for it not to convert some new listeners. Tune in and chill out!
****½
Review by Jason Ritchie

---
| | |
| --- | --- |
| | Print this page in printer-friendly format |
| | Tell a friend about this page |
***** Out of this world | **** Pretty damn fine |
*** OK, approach with caution unless you are a fan |
** Instant bargain bin fodder | * Ugly. Just ugly
get ready to rock is a division of hotdigitsnewmedia group