Just witnessed your best live gig?.. send us a review!
JOHNNY WINTER, The Assembly, Leamington Spa
29 May 2009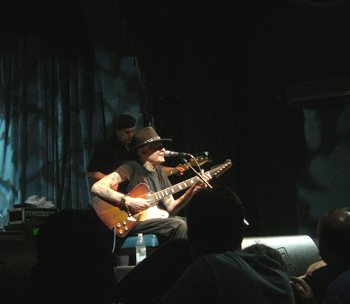 A hot sticky early summer evening perfect weather for a few cool beers and down and dirty blues from one of the absolute masters Johnny Winter.
The Assembly in Leamington Spa, in my opinion one of the finest new venues in the country, used to be a bingo hall but has been given a complete make — over with a spacious high stage, 2 main bars 2 extra bars, standing for 1000 and another 100 on the balcony but tonight was seated on the main floor and standing at the rear.
They also have a top of the range in-house sound and lighting system, well that's the venue on to the music.
Support tonight came from Joanne Shaw Taylor and its fair to say she blew most of the crowd including me away with a hi-energy guitar shredding set.
Starting with an instrumental which I think was the title track from her new CD "White Sugar" the band a classic 3-piece guitar/vocalist bass and drums went down a storm.
Extraordinary guitar playing and husky vocals from Joanne along with a tight as a drum rhythm section blasted there way through a perfect support slot including a stunning "Just Another Word" also from the new CD.
Well, warmed up and time for the main event and after a brief announcement it was The Johnny Winter band without the man himself starting the proceedings with the opening number before to tremendous applause the man himself was assisted to a chair centre stage.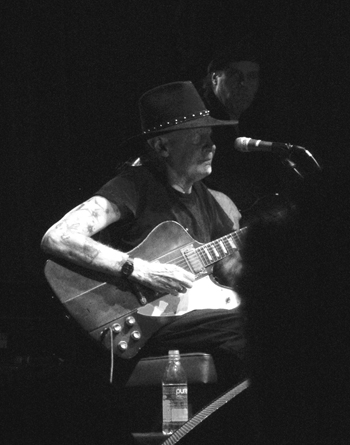 Looking frail but as stylish as ever dressed in black, wide brimmed hat and the famous tattoos on display it was a privilege to witness a set by one of the blues legends.
Johnny and his band including respected guitarist Paul Nelson rocked through a selection of covers and originals including "Black Jack" "All over Now" "Bony Moronie" and "Sugar Coated Honey" and after 40 years of taking his Texas blues all over the world his guitar playing is still breathtaking.
Parts of the seated crowd slowly but surely started to stand and move close to the stage as the show progressed and by the time he played his awesome rendition of Hendrix's "Red House" the place was rocking.
All to soon he was assisted off stage after a short but so sweet set and it was a real pleasure to have been there — come back soon Johnny.
Review and photo by Andrew Lock
---