Just witnessed your best live gig?.. send us a review!
HAYSEED DIXIE, The Assembly, Leamington Spa
22 July 2009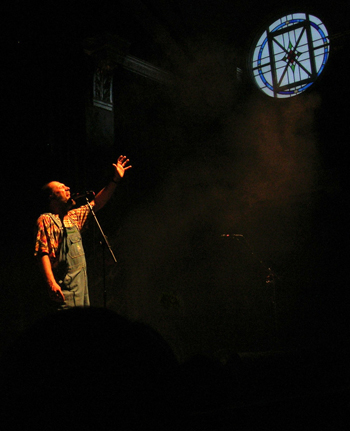 Support tonight came with the full on energy of The Band From County Hell playing a very distinctive mix of, country, hillbilly, punk and celtic sounds with a touch of The Pogues. The band a six piece, have been playing together for fifteen years and performed all original material including "Pussy Cat" and "Meet The Folks" they went down very well playing a strong set full of great tunes and good humour.
No big intro tape or impressive stage set for the arrival of the headliners Hayseed Dixie, just four guys walking on stage and tuning up, no drum set so the drum riser was used for beer and guitar cases!
The instruments, all acoustic included various guitars, banjo, bass and fiddle but all turned up to eleven as front man Barley Scotch said we may be an acoustic band but like playing loud.…!
The band played a good mix of their infamous covers and original material with many extremely funny tales between tracks on subjects such as alien abduction, beer and the fairer sex.
The cover versions included the opening track - Judas Priests "Breaking The Law", Motorheads "Ace of Spades", Zepplins "Black Dog", Aerosmiths "Walk This Way", Queens "Fat Bottomed Girls" and Black Sabbaths "War Pigs".
We also of course had AC/DC tracks "Hells Bells", "You Shook Me All Night Long", "Highway To Hell" and "Whole Lotta Rosie".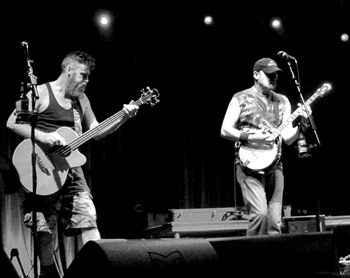 On the original side we were treated to amongst others "The Rider Song" with a great crowd sing-along on the chorus "bucket of beer a bucket of lager and some ice to keep it cool", "She Was Skinny When I met Her" and "Alien Abduction Probe"
One of many great moments in the set was Reverend Don Wayne on banjo being asked to play the tune his daddy wrote and going into "Duelling Banjos", another was all four playing one hand on their own instrument and one on another band members and keeping perfectly in tune.
The playing was superb from start to finish, the showmanship and crowd interaction first class, the covers a joy to hear - played in their unique style and the original material very strong and funny.
First time I have seen this band but hopefully not the last.
Review and photos by Andrew Lock
---