IAN GILLAN One Eye To Morocco Edel (2009)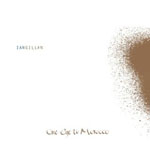 The fact that Ian Gillan tops and tails his album with a Joe Mennonna horn flurry offers an immediate clue as to the eclectic nature of his first album of new material for ten years.
From the cello laden Eastern sounding opening title track to the closing reflective 'Always the Traveller' Gillan sets out his stall by repositioning himself in the rock market place as a nasal voiced, mature rock singer with a locker full of quirky lyrics and musical textures best described as slow burners.
In fact, there's a bit of everything here to fill out a broad musical palette, from the retro rock and roll feel of 'No Lotion For That' to the exquisite Latin groove of 'Don't Stop' and even a rock and roll pastiche on 'Change My Ways', complete with a closing Purple era style vocal refrain. The latter offers a lovely mix of flighty vocals, bustling percussion, well crafted horns and an up tempo arrangement that works beautifully.
Some songs don't quite fulfil their promise, falling just short as on the slide-led 'Girl Goes To Show'. There are shades of Lennon's 'Come Together' but the song is hampered by a pedestrian chorus that sits uneasily next to the preceding verse.
Ian is far happier as he works up a slow whispered blues on 'Better Days' a number that impressively builds up the dynamic on the back of a 'Red Rooster' style slide and nuanced ooh's and aah's from the Gillanaires backing vocalists. His vocal performance and especially his phrasing is excellent, giving lie to any suggestion that he still needs to resort to the screams and high register falsetto of old.
If nothing else 'One Eye To Morocco' cleverly spreads the workload with co-writer Steve Morris taking care of all the instrumentation on 'Deal With It' while Ian raps out some Temptations style portentous lyrics, as a synth line floats above the backing track.
'One Eye To Morocco' is a triumph simply because the disparate elements of the album just about mirror the quality of the title track. If the Gillan/Morris song writing partnership was initially inspired by the lyric of the title track, there's enough musical diversity to match the wordsmith imagery.
'The Ultimate Groove' is a perfect example, as the music evokes the title effortlessly while guitarist Michael Lee Jackson slips into a Texas style riff on the Steinbeck influenced 'The Sky is Falling Down' while Gillian explores some meteorological metaphors. It's a song that could easily have come from David Grissom's Stoyville songbook.
Ian then reprises MLJ's excellent rocker 'Texas State of Mind' (first heard on the 'Live in Anaheim' CD) complete with a full blown band work out and pumping horns. This is impressive stuff and is followed by further stylistic diversity as Ian double tracks his voice for an abrasive Nickelback style chorus on the quiet/loud/quiet dynamic of 'It Would Be Nice', a track that like much of this album grows on you.
What apparently started out on the back of a lyrical whim has grown to something with real substance, comprising good songs, fine playing, good vocals all round and a real sense of an album. In fact this is a project that might pleasantly surprise a few people. If nothing else 'One Eye to Morocco' suggests a recharging of Gillan's creative juices and a successful shift in musical direction.
****
Review by Pete Feenstra

Get Ready to ROCK! Radio Features Editor Pete Feenstra talks to Ian Gillan about the album, "One Eye To Morocco"
© 2009 Get Ready to ROCK!/Prakash Acharya. All rights reserved.