Just witnessed your best live gig?.. send us a review!
DRAGONFORCE
Reading Hexagon, 20 November 2009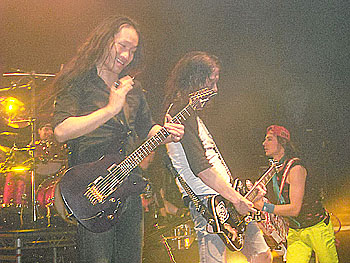 After a lengthy world tour Dragonforce make a heroes return to their homeland ignoring London to win over the 'Hearts 'N Minds' off the United Kingdom. Bringing fellow allies along for a tour of duty that will be remembered in the history books for many years to come.
From the garrison of the Yorkshire barracks came Glamour Of The Kill who were the first to go over the top. Being on stage at such an early time they didn't have a hope in hell chance of being saluted, but rising from your grave through the darkness they marched.
On the home front came the heavy artillery of local cadets Sylosis who started the first mosh pit of the night down in the trenches. A medal winning performance.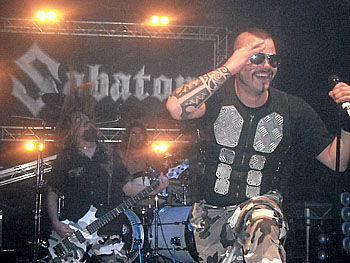 No one knows the art of war better than the Swedish battlion of Sabaton. The band seemed shellshocked by the audience reaction even before they loaded their guns with cries of ''Sabaton, Sabaton''. Joakim Broden led his troops through an arsenal of war themed tunes.
The metal machine delivered a primo victorious display that could be heard from the cliffs of Gallipoli. Even those in the safety zone of the balcony saluting the band, outnumbering the traitors by 40:1. Panzer battallion destroyed.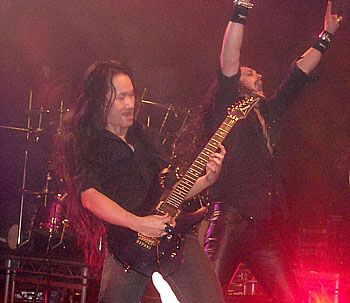 The last time i saw Dragonforce was earlier this year on the Asian front, in the concrete jungle of Bangkok. I was surprised how the band haven't suffered from any war fatigue. Although on record they sound like music being played fastly backwards on an old C-90 cassette tape, live the band are a entirely different tour-de-force.
No doubt about it Dragonforce are heroes of our time with the younger generation who will watch the band rise through the ranks. With an operation to ground and pound, singer ZP Theart commanded his force to give a shock 'n awe display.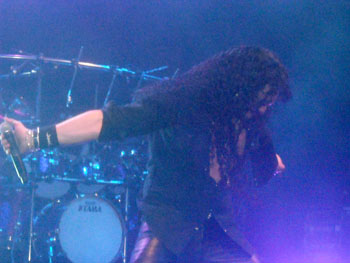 Gunslingers Herman Li and Sam Totman causing many diversions with their machine gun heroics, along with the rest of the platoon, making the most of the stage as if they were dodging a hail of bullets. The soldiers of the wasteland were left in the valley of the damned. Through the fire and flames Dragonforce came out with all guns blazing.
With a few wounds I survived the battlefield and made the last journey home on the train to the safety of the Capital, where i hope Dragonforce soon return because they really should troop the colours.

DragonForce set list: Heroes Of Our Time / Operation Ground And Pound / Reasons To Live / Fury Of The Storm / Starfire / Soldiers Of The Wasteland / When Dragons Rule / The Last Journey Home / Disciples Of Babylon / Valley Of The Damned..encores...Strike Of The Ninja / Through The Fire And Flames
Review and photos by Mark Taylor
---