DAN PINTO Anomalies Eclectic Sound 03031
www.danpintomusic.com (2007)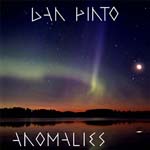 Dan Pinto has carved out a career scoring films for TV and industry. 'Anomalies' is his latest project and hangs together as a unified piece, rather than a series of tunes that could be incidental music.
Whilst it won't set the world on fire, 'Anomalies' is well constructed and not too predictable which can be a weakness of many albums like this. I'm sure if you heard the tracks in the background your attention would be grabbed. If you are acquainted with Asia's Geoff Downes solo efforts you should like this, which is keyboard-driven. Dan is a multi-instrumentalist and he contributes keyboards, drums and percussion. As the album progresses, the instrumental work and arrangements of David Foster come to mind too, and also David Paich's work on the early Toto albums.
'Funk Shui' does sound like it could be an eighties cop show theme but 'Jigsaw' is more reflective and quite engaging with a piano opening that reminds me of 'Year Of The Cat'.
'Enigma' is also excellent whilst 'Pyramids' has a compelling and rhythmic start, unfolding well with some great Hammond-style organ cutting through. Perhaps Dan should have used Hammond colours more, as the synth textures do sound a little "eighties" and therefore maybe a little dated.
Rhonda Schuster sings vocals on one track, 'Flight Of The Phoenix', but in truth it's fairly disposable if emotive, and detracts from the otherwise all-instrumental album.
Perhaps the main standout, and maybe highlighting a way forward in a crowded marketplace, is 'Labyrinth' which features the fluid and highly melodic fusion guitar of Ivan Romero. This is an excellent slice of jazz fusion referencing bands like Return To Forever, but arguably more accessible. Similarly, Romero also contributes to the excellent 'Pandora's Box' with saxophonist John Asti.
So, Dan, if you want to pursue a career away from the "day job", more please in the jazz rock fusion vein. Romero's your man.
****
Review by David Randall
"Anomalies" will be featured in the instrumental sequence on Get Ready to ROCK! Radio 06:00-10:00 (GMT)
Special feature
---
| | |
| --- | --- |
| | Print this page in printer-friendly format |
| | Tell a friend about this page |