WAS NOT WAS Boo! Rykodisc RCD 10943A (2008)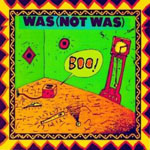 It may be little over 25 years since the leftfield Detroit production team of Don (Fagenson) Was and David (Weiss) Was laid down their off kilter mix of rock, funk soul and boogie. But with their new Rykodsic album 'Boo!', Was Not Was prove themselves to adapt at imaginatively recycling old wine in new bottles. That is to say that their contrary mix of styles and genres from funky dance floor friendly disco grooves and a potent mix of politically conscious and humorous lyrics are just as unique now as they were at the height of their 80's commercial success.
Sure they have mined a wide variety of styles from Soul and Motown to Zappa and George Clinton, but the clever juxtaposition of some off the wall lyrics with traditional soul inflected ballads remains essentially Don (Not Was). Hell, even their name is contradictory, as the Was musical pairing push their structural dichotomy to some great musical ends on an album that twist and turns by degrees and never allows the listener to be suckered into disco friendly complacency.
Thus although the untutored ear would immediately be attracted to the sledgehammer groove of the opening 'Semi - Interesting week' and would certainly be attracted to the Smoky Robinson feel of the following 'It's A Miracle', the lyrics soon disabuse you of any notion of MOR pretensions.
Indeed 'It's A Miracle is the perfect example of the duo's wry sense of the subversive. And while in the intervening years Don was has picked up a Grammy for himself for producer of the Year, he clearly hasn't jettisoned his sense of fun and the absurd.
More than that, with 'Boo!' the duo once again raise the bar for a white boys take on witty and politically conscious rap, fused with superb production values - a case if ever there was one of 'intellectual disco, or as they themselves once coined it 'Mutant Disco'. But what of Was (Not Was) in the 21st century? Well in effect they have re grouped and gone back to the musical staples that served them so well in the past and the biggest thing that 'Boo!' has going for it is that it is in a sense timeless.
The Retro side of things is well represented by both the 70's/80's disco beats and 60's soul which is cleverly updated through lyrical concerns and modern studio trickery. On the marvellous 'From The Head To The Heart' for example, they employ a Beatles 'I Am The Walrus' keyboard style as part of a beautifully crafted low key but compelling production whose minimalism teases out every nuance of a fine falsetto vocal performance by the splendidly named Sir Harry Bowens.
There's also a return to a Sly & Robbie style rhythm track on 'Big Black Hole' on which Sweet Pea Atkinson adds a post Beefheart style vocal (a style that is in part curiously repeated by Kris Kristofferson on the closing rap 'Green Pills in the Dresser') while the duo's sense of the absurd is evoked in a Zappa style collage of sampled voices with vocoders on 'Needletooth'. Sweet Pea Atki nson returns for a Wilson Picket style arrangement on 'Crazy Water', on which the lyrics remain far removed from those 60's days of soulful love ballads.
With the release of 'Boo!', Was (Not Was) successfully reintroduce their multi racial absurdist dance music into a music scene that at a macro level remains even more conformist than when they took their sabbatical in the early 90's. You suspect they aren't aiming to break too much new ground but are perhaps giving the majority of us the opportunity to catch up with one of the most skilful, soulful, funky art rock combos of the modern age. In short a great comeback album.
*****
Review by Pete Feenstra

---
| | |
| --- | --- |
| | Print this page in printer-friendly format |
| | Tell a friend about this page |