TYGERS OF PAN TANG Animal Instinct
Livewire/Cargo Records (2008)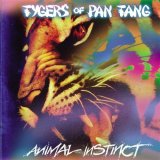 When the current line up of the Tygers emerged back in 2004 it was with interest that we watched and waited to see what was to materialise both with live sets and studio offerings - so far, so good.
The Tygers are currently riding high on the back of their recent and very successful UK/Europe tour but what will their latest studio album provide - nasty or nice?
There's always some trepidation for listeners who truly hope their beloved Tygers can keep up the momentum.
Breaking news is that 'Animal Instinct' does not disappoint.
This album is underpinned by a wealth of NWOBHM magic. Fast guitars, lingering solos, thundering drums - all best played super loud.
The record starts well with a catchy track, 'Rock Candy': you'll find yourself singing the chorus over and over in the following days. Both this and the fantastic 'Hot Blooded' have sleazy undertones, straight from the Strip. Who said British rock isn't versatile?
'Bury The Hatchet' and' Let It Burn' are steeped in the hallmarks of 'the early days' but this stuff is so pleasing to listen to and takes you to all the places that you want to go to.
Similarly, 'If You See Kay' and 'Winners & Losers' happily keep up the impetus. Still no fast forward required!
Remarkable vocals on 'Live For The Day' from Jacopo Meille, sounding incredibly Paul Rodgers-esque. Nothing wrong with that!
I have to say, I'm not sure where 'Cry Sweet Freedom' sits in all of this. Most albums have a track that stands out, but this track definitely stands out!! It's fast yet melodic and everything about it is memorable. Desert island disc? You decide.
Without a doubt this album completely holds it own in today's tough, fast moving music industry. It's dips in and out of nostalgia and also brings something 21st century too. That's saying something; I mean even some of today's new big money rock bands can't even produce something 21st century without sounding exactly like someone else from 30 years ago.
So that's a testament to the Tygers of Pan Tang - getting the balance exactly right for the fans that matter so much to them.
Wages burning a hole in your pocket? Invest in 'Animal Instinct' - you'll benefit from this time and again.
****
Review by Judith Reeves

---
| | |
| --- | --- |
| | Print this page in printer-friendly format |
| | Tell a friend about this page |