TAKARA Invitation To Forever ProgRock Records (2008)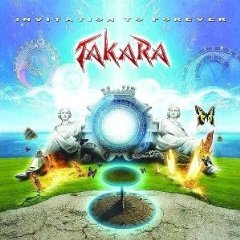 Guitarist Neal Grusky is back with his Takara after seven years. Their last album 'Perception Of Reality' was released in 2001 with Michael Flatters on vocals but he has now been replaced by Gus Monsanto (Angra/Revolution Renaissance). Former Takara vocalist Jeff Scott Soto sings harmony vocals on the album which really brings the choruses to life.
Gus Monsanto suits these hard rocking songs down to the ground and he reminded me at times of Dee Snider! Songs like 'Spotlight' (lyrics by Jeff Scott Soto and originally found on the band's 'Eternal Faith' album) are simply stunning, bringing to mind Joe Lynn Turner era Rainbow and Hardline, this particular songs features some immense keyboards and guitars. 'Angel Of Lies' and 'Place Under The Sun' both have catchy choruses and more hooks than a fishing contest! Only 'Looking For salvation' fails to hit the spot for me as the chorus gets repeated a bit too often detracting from the song. Only one ballad on here, 'This Photograph' which sees the harmonies set to max and this is a very strong song throughout. As Neal Grusky wrote most of the songs on here he doesn't overload them with needless guitar solos like say Axel Rudi Pell does, which makes for a stronger set of songs as a result.
Another fine album from Takara and hopefully this will do well enough to allow them to tour. Don't miss this album out if you enjoy melodic hard rock.
****½
Review by Jason Ritchie
---
| | |
| --- | --- |
| | Print this page in printer-friendly format |
| | Tell a friend about this page |