STEVE WINWOOD Nine Lives Sony/BMG (2008)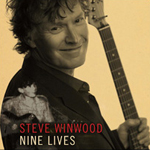 Steve Winwood is not the most prolific of musicians in terms of album output and 'Nine Lives' is his first outing since 2003's 'About Time'. Its release coincides with the artist's sixtieth birthday and, frankly, Winwood has aged well. So has his music.
In recent times he's appeared at the Jim Capaldi tribute and with Eric Clapton, and it's Eric - former collaborator in Blind Faith - who adds his guitar to one of the album highlights 'Dirty City'. This is a song that evokes prime-time Traffic with a 'Low Spark' vibe.
Elsewhere, from the bluesy 'I'm Not Drowning' to the funky groove of 'Secrets', this work is crowned by top class musicianship and that very welcome sound: the Hammond organ.
'Fly' has a wonderful jazzy groove infected with World flavours whilst 'Raging Sea' has a simple but infectious guitar riff - both the perfect vehicle for Winwood's soulful vocal.
'We're all Looking' is another great groove punctuated by glorious Hammond, 'Hungry Man' and 'At Times We Do Forget' start off with a flourish straight from the townships. 'Other Shore' - dare I say it - has a 'Just The Way You Are' feel to it and could veer towards schmaltz in more careless hands.
A perfect choice for late-night schmoozing and a great comeback from one of our most soulful performers. And on this showing - all nine lives are still firmly intact.
*****
Review by David Randall

---
© 2008 Sony BMG. All rights reserved.