ROBBIE DUPREE Time And Tide
Zink Music ZMCD004 (2008)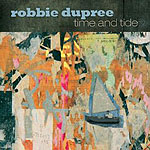 'Time and Tide' is a beautiful record that will appeal to all music fans of a certain age. Imagine piling into a new stack of CD's and picking up the accompanying blurb and coming across a new musical genre West Coast AOR. In fact its not actually new of course as a cursory exploration of the genre suggests more of a home for aging west coast hippies and jazzers and the like. You could almost imagine musicians of a certain age salivating over such a musical category as it potentially includes just about all west coast styles from The Eagles, Toto, The Tubes, Fleetwood Mac, and Poco to Jazz, rock and beyond.
What the genre boils down to in the case of Robbie Dupree's 'Time and Tide' is Steely Dan by any other name. And if West Coast AOR is best exemplified by strong melodies, beautiful harmonies, well crafted arrangements and in this case a funky jazzy groove, then Robbie has it all.
Robbie Dupree is a major talent who is surprisingly on his ninth album and makes the best of some top line accompaniment that includes the mighty David Sancious on sumptuously arranged keyboards and Temptations bass player Rick Chudacoff who underpins everything with the coolest funky bass lines imaginable.
In fact all the players here are simply stellar and come with top line pedigrees. But the real surprise is that they don't drift off into the sterile backwaters of studio musicians. And the reason quite simply is both Robbie's magnificent voice and a series of great songs and sophisticated arrangements that breathe life into the music rather than give it the dreaded muzak gloss.
So while the opening 'Wrapped Around Your Finger' is so laid back as to make you question further exploration, the following 'Mystery World' kick starts the album with up a lovely groove full of great dynamics.
The following jazzy feel of the Sancious led 'Lucky', complete with staccato piano lies and tasteful guitar and the magnificent 'Sugar Tree' provide all those barely disguis ed elements that made Steely Dan so great.
Unlike Dan though, Robbie's voice carries the material forward with real feel and emotion and on 'Sugar Tree he combines those elements with some clever lyrical imagery. Even when the music doesn't apparently change much from the preceding groove as on 'Blue Monday' there is such a beautiful melange of ensemble playing, including muted trumpet, expressive piano lines, and tasteful guitar that the musical spirit of the piece leaps out from the grooves.
Like many of the tracks here the song is very catchy and will reward repeated plays. 'Secret Love' is another highlight recalling the Michael McDonald era of the Doobie Brothers and again Dupree employs some clever lyrics and includes some majestic bv's to fill out the perfect arrangement.
Not content to rest on the late night sophisticated funky jazz feel the album closes with some unexpected gospel elements on 'Satisfied' and a magnificent showcase of Robbie's post Neil Young style vocals on the beautiful ballad 'Judgment Day'.
With David Sancious contributing an almost ethereal synth accompaniment, 'Judgement Day' is the perfect track to round off a cracking album, with only the derivative style of the music (ironically the very West Coast AOR style that this CD champions) depriving it of the full five stars.
****½
Review by Pete Feenstra

---
| | |
| --- | --- |
| | Print this page in printer-friendly format |
| | Tell a friend about this page |