POWERS COURT The Red Mist of Endenmore Dragonheart Records (2008)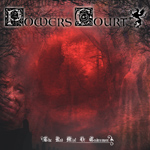 I had resigned myself to the fact that the days when an album could take over my life completely, play itself back in my head throughout every single minute of the day and compel me to listen to it during any spare moment were long gone. Not having experienced such an obsession for quite a while, I was rather shocked to find that I was suffering from the above - mentioned obsessive symptoms from the upcoming release of a Power Metal band by the name of 'Powers Court'.
The guilty album, entitled "The Red Mist of Endenmore" is, in my very humble opinion, what one could call truly 'monumental'. Not since Fates Warning's "Awaken the Guardian" have I heard a release which is as coherent, technically proficient and inspiringly 'magical' as said offering from this promising American band.
Information on this three-man collective is as difficult to find as are their previous two releases (the self-financed, self-titled "Powers Court" and the 2001 Dragonheart release "Nine Kinds of Hell"), however, thanks to the Dragonheart insert to the promo, I know to thank Danie Powers for his haunting vocals and inspired guitar work, Steve Murray for a very proficient bass technique and Daniel Nydick for his excellent percussion. You will be hard-pressed to find much more information than this, other than that which is posted on the band's MySpace page, and certainly nothing much in the way of independent third party reviews. I have not found reference to the female vocal on this album anywhere, but I believe this also deserves a positive mention, since it takes the lead on one song in particular ("Vain Regrets") and forms an integral part of both the music and the concept.
"The Red Mist of Endenmore" is, according to the insert, a concept album, based on a story, written by Danie Powers. This fittingly epic tale boasts an oppressive landowner, a damsel-in-distress, black magic and sorcery (of course!) and murder. All excellent conceptual ingredients for a story that evokes powerful guitar riffs, extremely memorable melodies, a progressive vocal narration and a timeless feel to both the music and the tapestry of images it weaves. I had thought of narrowing the 'highlights' of the release down, but have found this a truly impossible task, so would recommend you appreciate the album in its entirety.
You may not be surprised to hear that among Dragonheart's releases one will find the re-issued "Open the Gates" by the mighty Manilla Road and this is an indication of one of several influences that come through in Powers Court's music - apart from the said titans of American Power, one detects also Omen, Iced Earth and Fates Warning (John Arch era) - all respectable sources from which the band have chosen to hew their very own, special form of progressive aggressive and 'dark' power metal. To me, a band which pays homage to its roots but, at the same time, creates something original from these components is a truly original band.
I strongly urge you to seek out this release whichever way possible and to experience for yourself what this talented band has to offer!
Now, where did I put my MP3 player again!
*****
Review by Emily Dgebuadze
---
| | |
| --- | --- |
| | Print this page in printer-friendly format |
| | Tell a friend about this page |