MONTE MONTGOMERY Monte Montgomery
Provogue PRD 7521 2 (2008)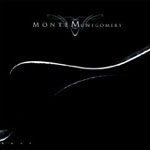 Monte Montgomery's fast rising status in the world of guitar aficionado's has already been cemented by being named in the 'Top 50 All-time Greatest Guitar Players'. Yet aside from being an extraordinary acoustic guitarist who leads his own power trio, this self titled album superbly demonstrates he is a fine singer with a locker full of great songs to boot.
At the core of his music is the interplay between his mesmerising licks, deep tones and ethereal sounds that act as a conversation piece as part of several relationship songs. On the opening track 'River', Monte and his band work up a fractured funky groove over which he delivers his brooding lyrics before teasing out some wonderful sounds over an insistent rhythm section that pushes him to the limit.
Here is a musician who clearly enjoys exploring the possibilities that his own songs allow him. And while on 'River' he conjures up some incredible sounds and finishes the number with an angular flourish, his guitar doesn't so much dominate as act as foil. But just like the wide ranging style of his music Monte's fast changing time signatures reflect a creative restlessness that finds expression through repeated little guitar figures.
Thus on the energetic and optimistic lyrics of 'Lets Go' some almost subliminal repeated notes build up a little tension over a weighty Zeppelin style string arrangement. There's undoubtedly some dazzling guitar playing here but the songs retain their primary sense of purpose. On the mellow groove of 'Company You Keep' for example, he builds up the tension a over a couple of verses before taking off on a flighty flurry of notes But Monte seems just as happy on a simple but effective ballad like 'Love Last Holiday' or indeed on the uplifting chorus of the radio friendly 'Moonlight Tango'.
He is also unafraid to tackle several relationship songs of which 'Be Still' is arguably the best of the lot. It's a gentle acoustic rocker that unexpectedly shifts gear wi th a sudden chord change and a different tone as part of an angular guitar break And yet the core of the song still hangs on the delicate chorus that should attract any self respecting radio Jock. Listen to the emotive sentiments of 'How Far' and you quickly realise you are listening to a mature song writer who is unafraid to write about his own experiences.
Much has been made of Monte fronting an acoustic power trio and he adds an blustering cover of Hendrix's 'Little Wing' before signing off with the last of a couple of Jackson Brown influenced ballads Monte Montgomery has the potential to appeal to a lot of people, and with three potential single releases to complement his dazzling playing ability the future looks bright for this mesmerising guitarist.
****
Review by Pete Feenstra

---
| | |
| --- | --- |
| | Print this page in printer-friendly format |
| | Tell a friend about this page |