MISSY HIGGINS On A Clear Night (2008)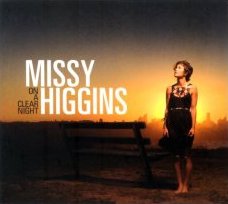 There are some things in life that are worth the wait. And there are some you shouldn't have to wait for. Missy Higgins' glorious follow up to her phenomenal 2005 debut The Sound Of White is such a gem.
For some unfathomable reason Europe has been made to wait for almost a year for the release of On A Clear Night, although fans have been able to hear the album - in full - on Missy's website - a strange but welcome move for those baying for more from this talented Aussie songstress.
So what of the 'difficult second album' from the premier antipodean singer songwriter? Well the good news is that she's sidestepped the elephant trap with aplomb, and while On A Clear Night may not quite reach the dizzy heights of its predecessor - where every track merited a full five stars - Missy Higgins has nevertheless come up with the goods - in spades.
And perhaps wisely, she's decided against playing it safe and coming up with The Sound Of White - Part 2. Whereas her first album was moulded from the Carole King 'Tapesty' school of songwriting - mainly just vocals and piano, for her follow-up she's gone for a more band orientated set. But it's still unmistakeably Missy Higgins and it's still pure 'class'.
Of the eleven tracks on offer at least 8 hit the full five-star bull's-eye once again. And it's hard to think of another current generation singer songwriter who's pulled of that trick. Where I Stood opens the album and picks up where The Sound Of White set ended, but the rest of the album delivers a more fleshed out and guitar based sound.
It would be unjust to single any tracks out for special mention - ever one is a 'beaut', but if you do want a 'taster' check out Secret - a more sensual track you'd be hard pushed to find, and the lovely The Wrong Girl. Sublime. ****1/2
****½
Review by Pete Whalley

---
| | |
| --- | --- |
| | Print this page in printer-friendly format |
| | Tell a friend about this page |