METALLICA Death Magnetic Vertigo (2008)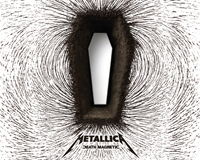 It's been a long 5 years since Metallica released their not so popular last album, ST Anger. Now the band bless us with their ninth, probably most highly anticipated studio album yet, Death Magnetic.
Death Magnetic seems to have defined itself as the musical equivalent of war of the worlds. An unexpected attack to conquer the world. Having probably lost a number of fans through the last album it seems Metallica have been laying in wait ready to spring onto us what we've been waiting for , the old sound of the Metallica we know and love.
Death Magnetic marks the bands split with long-time producer Bob Rock who produced every album from 1991 to 2003. Rick Rubin is now on board the Metallica ride producing Death Magnetic getting them back on line. Rick Rubin is no stranger to hard rock: to those fans who are unaware of his works he's recorded and signed music by the likes of Slayer and the Red Hot Chilli Peppers.
OK, just to get one thing straight, before you listen to this album please do Metallica justice and get the CD onto one hell of a big sound system and play it as loud as your neighbours can tolerate it, this is really the only way to get the full benefit of a great metal album such as this.
Death Magnetic includes ten songs around eight minutes long, each filled with grunge, speed, and grinding riffs with some classic James and Kirk soloing. Upon examining the lyrics to these songs the general theme appears to be about escaping in some form or another, which I guess is a justifiable theme for a heavy metal band known for doing everything to excess. Some of these lyrics include 'Crawl from the wreckage one more time' from the song All Nightmare Long and 'Claustrophobic crawl out of this skin' from My Apocalypse.
Songs which stand out for me are Cyanide and That Was Just Your Life simply because they have that addictive catchy rock beat you feel obliged to head bang your way to heaven too. The album strongly resembles the past classic Metallica albums such as Master of Puppets so the majority of fans more into Metallica's older 80s material should easily get into Death Magnetic.
Metallica also seem keen to broaden their fan base and appeal and have made the whole album available for Guitar Hero inspiring, quite possibly, the younger generation to look deeper into the band behind the music they angrily press their small plastic guitars to.
The only minor criticism of Death Magnetic is where it lies within the context of Metallica's career. Sounding very much like a lot of their old material, are Metallica going to go in another direction with their music or not seems to be the question. But then again it seems to have served them pretty well so far with multimillion selling albums so is there really any need to change their sound? I think not.
The band are set to play a special album launch party at London's O2 on September 15th 2008 then embark on a lengthy North American tour.
****
Review by Betsy Green

---
| | |
| --- | --- |
| | Print this page in printer-friendly format |
| | Tell a friend about this page |