MARTIN ORFORD The Old Road GEP (2008)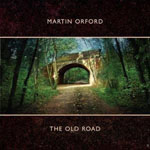 Keyboards player Martin Orford (IQ/Jadis/John Wetton) bows out of the music industry with this his second solo album. Not a lover of downloading or modern culture this album is about doing things and in this case, making music, the old way. He is joined by a strong set of guest musicians including Asia's John Wetton, John Mitchell (It Bites/Arena/Kino/Frost), Steve Thorne, Gary Chandler of Jadis and Spock's Beard members Nick D'Virgilio and Dave Meros.
The press release and sleeve notes both state the music is unashamedly retro and if you like any of the band's and artists Martin Orford has worked with through the years you will love this album and the wonderful music it contains.
Hard to pick highlights as there are no filler songs on here but for Asia/John Wetton fans 'Take It To The Sun' will delight your ears. John Mitchell adds some tasty guitar solos on this one as well. Wetton also sings lead vocal on the album's heaviest song 'The Time And The Season' and if the lead guitars on here don't have you air guitaring you must be clinically dead.
The title track is the best song Kansas never recorded! From the keys/acoustic guitar intro through to the fiddle solos from respected folk musician Colm Murphy it reminds the listener of 70's Kansas in all their pomp and glory, plus add in some flute for a Tull feel - superb. Steve Thorne takes lead vocals on 'Out In The Darkness', which could easily have come off any of his very enjoyable solo albums. The reflective 'Endgame' finishes the album off nicely.
Excellent musicianship, strong songs and melodies - a real treat for fans of classic prog rock, Asia and UK prog bands like IQ, early Marillion, Credo, Jadis et al. The only downside is this is Martin Orford's swansong but what a way to go out in!
*****
Review by Jason Ritchie

---
| | |
| --- | --- |
| | Print this page in printer-friendly format |
| | Tell a friend about this page |