VARIOUS Guitar instrumental albums (2008)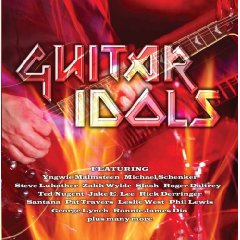 Unfortunately there's very little information with Guitar Idols (Store For Music). It appears to be a double-CD collection of tributes, culled from various sources, not least a Pink Floyd tribute.
There's an impressive array of guitarists lending their chops from the unusual opener - ex-Stones guitarist Mick Taylor playing Thin Lizzy's 'Jailbreak' - through Slash's take on 'No More Mr Nice Guy' and country-rocker Albert Lee playing Aerosmith (Back In The Saddle). Very little information lets the package down, and it is only recommended for die-hard guitar aficionados. ***½
Better documented is Guitar Masters Vol.1 (BHP Music) annotated by respected US guitar mags Guitar Player and Vintage Guitar. The 18 tracks cover a large range of styles and artists and this is perhaps the biggest criticism and always a potential problem with compilations of this kind.
Starting with John Paul Jones and a track from his solo album 'Zooma' (featuring Trey Gunn on guitar solo), there are tracks from Jeff Beck with Toots and The Maytals, Zakk Wylde and Billy Sheehan. Although eclectic, the compilers have sourced unusual pieces, like Joe Satriani's contribution to Stanley Clarke's 2003 CD '1,2 To The Bass' and Allan Holdsworth on lesser-known jazz bassist David Hines' album 'Nebula'.
There are a fair number of lesser-known players included and whilst this might flag up stars of the future, the CD is heavy going for all but the dedicated guitar nerd. ***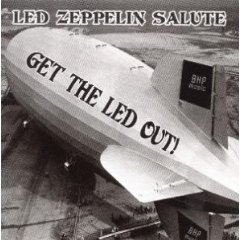 A label proclaiming 'One of the greatest rock instrumental albums in recent memory...' is high praise indeed for Get The Led Out! Led Zeppelin Salute (BHP Music) The truth is: can a mixed bunch of top class musicians bring anything new to the table? Well, yes and no.
Chris Mahoney gets things off to a promising start with 'Whole Lotta Love' and Leslie West plays lead on 'Moby Dick' but a drum solo kills the groove (arguably on the original too).
The key to a good 'covers' album is where you hear a song that although not drastically changed makes you reconsider the original in a new light.
Only 'Kashmir' featuring Martin Winch's acoustic guitar/folksy treatment, Steve Bingham's take on 'Battle of Evermore' (played like a string quartet), and Hal Lindes' 'Babe I'm Gonna Leave You' capture something fresh. And Doug Doppler (who?) does well on 'All My Love'.
Bottom line is that this well-produced guitar album put together by (and featuring) talented Brian Tarquin is how Zep might have sounded if they had formed in 1988 not 1968 but without Percy's vocals. And mercifully Tarquin has refrained from including yet another version of the guitar-wannabe favourite 'Stairway To Heaven'.
But as if to concede defeat (or at least entice in the Zep fan) there are four bonus session tracks featuring the Page man himself, recorded in 1968/70. ***½
Review by David Randall
---
| | |
| --- | --- |
| | Print this page in printer-friendly format |
| | Tell a friend about this page |