GENESIS Genesis 1970-1975 Charisma/EMI (2008)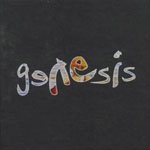 Charisma's ambitious reissue programme of the Genesis catalogue concludes with SACD/CD and DVD 5:1 Surround Sound re-mastered re-mixes of the first five albums' source tapes, a revisit to theatrical bravura in previously-unreleased archive concert film footage, a tap at the door of what made it all tick in newly-filmed band interviews.
This set's 10 discs are almost secondary to the packaging including two hardback books with celeb guest and band liner notes, the surreally harmonising cover art of Paul Whitehead intact, which with jewel cases all neatly slot into a chunky box. The sound is now pin-drop sharp, raising the melodramatic performance of increasingly complex music to breathtaking levels, bringing out notably Gabriel's emoting voice and Collins' interpretative and expressive drumming.
The interviews are especially revealing. In the studio, a startlingly youthful Anthony Phillips restores the reputation of original drummer John Mayhew; Gabriel reflects on how he sought to explore musically the dark side of upper-middle class social mores; Hackett (the most rock 'n roll) reflects on not always feeling one of the gang of former school friends that set to task at Charterhouse public school in the late 1960s.
Banks and Rutherford, in what resembles a gentlemen's club, touch on the drive, care and passion that often prompted spats and flounces amongst the Old Carthusians. Former actor and stage craft 'pro', Collins is most at ease whilst still somehow wary of the camera that so close-crops his face as to obscure his surroundings. All articulate well how the band developed from the folk-inflected start in Trespass through the increasingly progressive Nursery Cryme, Foxtrot (Phil gets along to Yes gigs to check out how it's done) and 'Selling England By The Pound' to start to shrug off of the old country and embrace the new as The Lamb Lies Down On Broadway.
Bonus discs include the aborted soundtrack project for a BBC Art film on the work of painter Michael Jackson, unreleased tracks, demos and rare non-album single. Hours of listening, viewing and reading pleasure require plenty of Santa's gift tokens as this lavish package will sell for many pounds, and quickly. Get them out by Friday.
*****
Review by Peter Muir
---
| | |
| --- | --- |
| | Print this page in printer-friendly format |
| | Tell a friend about this page |