DAYS BETWEEN STATIONS Days Between Stations
Bright Orange Records BCD-1067 (2008)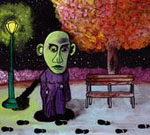 'Days Between Stations' is both the name of the band and the name of a progressive rock masterpiece. For an album that opens with a 'Requiem for the Living' and closes with 'The Wake', the music is not quite as sombre as the titles might suggest.
Indeed in just under an hour the listener is taken on magical musical journey comprising different sounds, textures, moods, imaginative aural sculptures (not forgetting Sepand Samzadeh's stunning cover painting) and spiralling solos that make this album one of the groundbreaking moments of the year.
That said, 'Days Between Stations' is by no means perfect and for those of us with a sense of musical history there are some obvious musical reference points such as the hugely derivative 'Either/Or' which is a thinly veiled reworking of Pink Floyd's 'The Great Gig in the Sky'. The song unashamedly comes complete with an evocative vocal from Hollie Shepard who reworks Clare Torry's original voice as instrument sequence.
But happily there is enough originality in the composite work of joint composers Oscar Fuentes (keyboards) and guitarist Sepand Samzadeh to overcome such awkward connections. And while there are some Brian Eno and Tangerine Dream style moody synth moments and some later beautifully toned sax parts courtesy of Jason Hemmens on 'The Long Goodbye', the first part of the closing 'Laudanum', which recall the early West coast synth and horn experimentation of Beaver & Krause, seen as a whole 'Days Between Stations' embodies its own artistic integrity.
In fact, as if to head off any criticism at the outset, the band's web site helpfully references some of the above, as much you suspect to give the unsuspecting listener a sense of context with which to deal with this startlingly beautifully constructed album.
The project was apparently several years in the making with external events playing a significant part in the eventual shaping of the music. Oscar Fuentes and Sepand Samzadeh seem to be a pair of musicians whose musical vision has been enhanced by the judicious choice of additional musicians as each element seems to add a new dimension to their prepared pieces, be they the eastern style chanting of Jeffrey Samzadeh on the sombre opening track 'Requiem for the Living' or deft use of Sean Erick's trumpet parts, most particularly in the end part resolution of 'The Wake', the final quarter of the closing 'Laudanum' suite.
Were these 7 musical pieces to be taken in isolation the whole project might be considered more problematical if only for the previously mentioned musical influences. But throughout the album (and this is a good old fashioned concept album), there's an organic feel at play born of magical grooves, searing solos, gentle keyboard motifs, delicately toned slide guitar - particularly on the climactic finish to 'Requiem' - and synth solos, especially on the second half of 'Either/Or', that bring a welcome sense aural diversity and breathe fresh life into each piece.
Then again Steve Miller fans might complain that he was doing that in 1976, circa 'Fly Like An Eagle'. But if you take the album as a whole there's enough originality, imagination and emotion here for the project to confidently stand up in its own right. Musically, there's a constant sense of a core dynamic as evidenced in the light and shade provided most obviously by a mix of voice collages, synth noodles ('Intermission 2') and songs such as 'Radio Song', which employs a synth and vocoder mix that works well in the context of the album, if not on its own.
Given that it is nearly four decades or so since the introduction of synthesizers in popular music, perhaps the greatest plaudit that can be offered to this album is that is captures the imagination, pulls you in wildly different directions, evokes contrasting moods and opens up a musical landscape that demands repeated listening.
****
Review by Pete Feenstra
---
| | |
| --- | --- |
| | Print this page in printer-friendly format |
| | Tell a friend about this page |