DANNY BRYANT'S REDEYEBAND Black And White
Rounder CBHCD2014 (2008)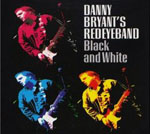 If Danny Bryant ever has any moments of self doubt regarding the acceptance of his brand of fiery rock blues he need look no further than Europe where his obvious mentor Walter Trout holds sway. And with this brand new and arguably best ever album 'Black and White' on the prestigious Rounder label things are looking up for the Hertfordshire fireball.
From the opening guitar crescendo of 'Tell Me' to the solo outro title track, Danny's characteristic hard driving rock-blues powerhouse never lets up but finds new avenues of expression be they well constructed rock blues ballads of unstinting intensity or unreconstructed rockers on which Danny cranks out the riffs.
In fact there's a surprising amount of variety here including the funky 'Between the Lines' which employs a kind of Walter Trout favoured repeated funky riff and though Danny's tone is a shade harsher he cuts through on the chorus to great effect.
Danny similarly shows growing confidence on the blockbusting rock ballad 'Love Remains' which aside from being one of his best ever vocal outings is full of lashing of full toned wailing guitar that evokes the lyrics superbly.
It's the kind of song that I'm sure Joe Bonamassa would love to have written, but meanwhile I'm equally sure it's going to be a Danny Bryant showstopper in years to come. There's also a burning intensity at the core of the double tracked guitar lines of 'Twenty One'which come together beautifully halfway through the song as Danny blazes away imperiously.
His passion also shines through as he brings his trademark big riffs to bear on the powerful stop-time rocker 'Last Goodbye' But perhaps the most significant fact is that Danny is confident enough to slow things down and lever himself into a handful of big riffed ballads. The resonant tone of his soloing and tough singing on another album highlight 'Any Wonder' pushes him to a career high while the acoustic intro of 'Walk Away' leads into another impressive passionate outing.
The clever acoustic title track and end piece 'Black and White' turns out to be just Danny his acoustic and the blues, and is infact the perfect ending to a pulsating album.
****
Review by Pete Feenstra
---
| | |
| --- | --- |
| | Print this page in printer-friendly format |
| | Tell a friend about this page |
***** Out of this world | **** Pretty damn fine |
*** OK, approach with caution unless you are a fan |
** Instant bargain bin fodder | * Ugly. Just ugly
get ready to rock is a division of hotdigitsnewmedia group